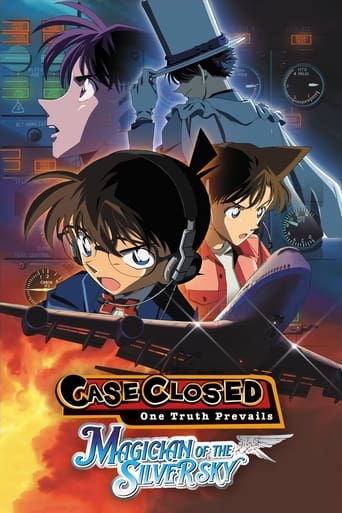 Detective Conan: Magician of the Silver Sky (2004)
Once again, Kaitou Kid crosses swords with Conan Edogawa in this annual installment of the Detective Conan movie franchise. After receiving a letter from the thief, famous actress Juri Maki seeks the help of private detective Kogorou Mouri to protect the Star Sapphire—the "Jewel of Destiny," said to represent faith, fate, and hope.
...
Watch Trailer
Cast
Similar titles
Reviews
This is a small, humorous movie in some ways, but it has a huge heart. What a nice experience.
More
Blistering performances.
More
what a terribly boring film. I'm sorry but this is absolutely not deserving of best picture and will be forgotten quickly. Entertaining and engaging cinema? No. Nothing performances with flat faces and mistaking silence for subtlety.
More
All of these films share one commonality, that being a kind of emotional center that humanizes a cast of monsters.
More