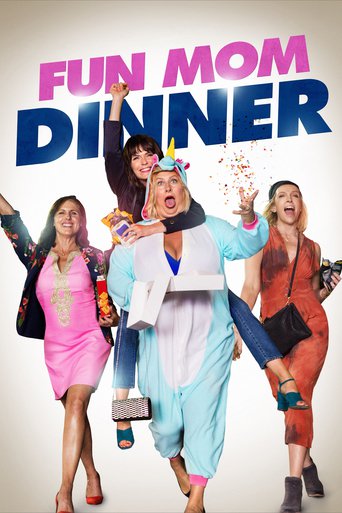 AD:This title is currently not available on Prime Video
Fun Mom Dinner (2017)
August. 04,2017
|
5.2
|
Comedy
AD:This title is currently not available on Prime Video
Four women, whose kids attend the same preschool class, get together for a "fun mom dinner". When the night takes an unexpected turn, these unlikely new friends realize they have more in common than just marriage and motherhood.
...
Watch Trailer
Show More
Cast
Similar titles
Reviews
I went into this expecting it to be a "Hell in a handbasket" film--those have intentionally simple set-ups, with usually (darkly) comedic plots propelled by events gradually spiraling more and more out of control until characters have a complete disaster on their hands.That's not what this is, though. This is more of a quaint, somewhat chick-flicky buddy film. They seemed to be shooting for a middle-age-yuppie-parents-oriented John Hughes style flick, a la the Breakfast Club, Pretty in Pink, 16 Candles, etc. It doesn't take much imagination to realize this. Characters regularly reference 16 Candles.I found a few scenes laugh-out-loud funny, but that's not necessarily what they were shooting for here anyway. They're just as often trying to be poignant or simply "cute"--the latter most consistently hitting its target.Unfortunately, overall, Fun Mom Dinner winds up falling a bit flat, unable to sustain or even build any significant momentum. It too often displays the relative laziness of its title. It's a short film, but some scenes drag--the marijuana dispensary bit is one of the worst offenders.I wouldn't say it's not worth watching, but lower your expectations--bury the bar in the ground after all. If you approach it as a sketchy, cute dramedy, though one with a character or two who can be on the annoying side as often as not, it has some assets.
More
This film tells the story of four mothers, who are not best friends until they go for a dinner together, away from their children and husbands. It has been a long time since they have had fun, and they make full use of their valuable break from domestic duties."Fun Mom Dinner" wants to be another "Bad Moms", but I guess it has not worked as magically as planned. The jokes are not that funny, and the characters are not very sympathetic. The two fathers having a heart to heart talk in the backyard is actually more interesting to watch than the mothers who enjoy themselves. I guess the things these mothers do are a bit too ordinary, and not raunchy or outrageous enough for a comedy.
More
I got a wife. I got 2 kids. I watched this movie exhausted at the end of a long day.I laughed a lot. The conversations were relevant to me and my wife. Very enjoyable movie.There's a lot of negative reviews out there and I think it's unfair cause those people reviewing it have no business seeing the movie. Why give a negative review to a film that it is not relevant to you. I liked it.
More
I can't imagine why this movie's ratings are so low, because it is hysterical! A real chick comedy if ever I saw one... I haven't enjoyed a movie so much in a while. Don't watch the trailer cause it spoils a few of the good bits, but rest assured, you're in for a treat. This is the kind of movie I love to watch with my girl friends or my sisters.
More