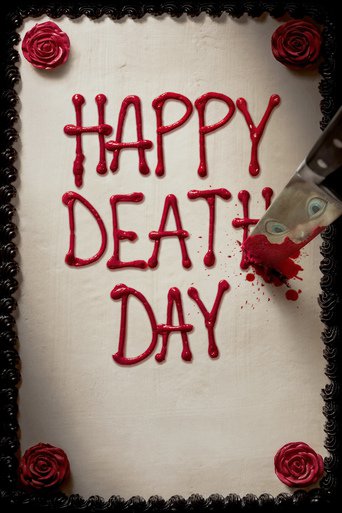 AD:This title is currently not available on Prime Video
Happy Death Day (2017)
AD:This title is currently not available on Prime Video
Caught in a bizarre and terrifying time warp, college student Tree finds herself repeatedly reliving the day of her murder, ultimately realizing that she must identify the killer and the reason for her death before her chances of survival run out.
...
Watch Trailer
Show More
Cast
Similar titles
Reviews
If you like the movie Groundhog Day than you will hate this movie. It's a total rip off. (Not in a good way - in a way that is so obvious and lazy it even references the movie at the end as a final joke.) This lady thinks only of herself and she has to die a bunch of times to learn her lesson - than survive and move on with life. The killer mask is a sorta cool design but the entire premise of the movie is flawed deeply.
More
Every moment of this is fun as heck. Even though I figured out who the murderer was pretty early on, I was totally intrigued by all the little mysteries. And rather than get more boring with each repetition, the movie actually gets funnier and weirder the longer it goes on. The writers really thought through the logic of the premise and made it like a game or puzzle with - so important - a ticking clock. All the performances are so funny and feel at least a little like real college students. If you're looking for thrills that won't fudge you up, definitely give it a go. I loved it!!!
More
Imagine someone would be forced to watch every single bad teen/slasher/horrow movie, again and again. now imagine you let that poor soul create a movie where he gets the chance to mock everything he was forced to endure. would you like to watch the result? in this case, this movie is for you. you will love it. this is an excellent parody. imagine cabin in the woods, a different kind of jokes, less gore and a time loop.
More
This is really easy, simple, but not stupid, really nice movie with excellent humor. At last really good humor in 2018! Maybe I'm affected by bad movies around, but there was a feeling that I returned to the kind, soulful comedies of the 1990s and 2000s. This film can't be designated a specific genre. If the writers added more story twist, it would be generally excellent. But anyway, it's a kind and positive movie that I already want to revise.
More