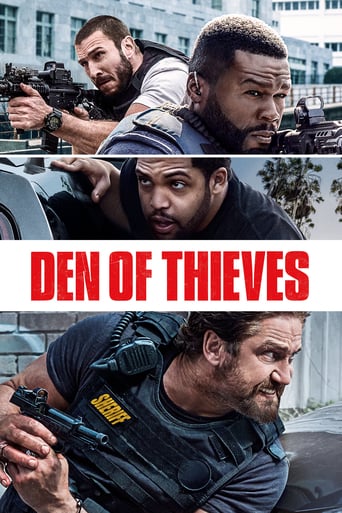 AD:This title is currently not available on Prime Video
Den of Thieves (2018)
AD:This title is currently not available on Prime Video
A gritty crime saga which follows the lives of an elite unit of the LA County Sheriff's Dept. and the state's most successful bank robbery crew as the outlaws plan a seemingly impossible heist on the Federal Reserve Bank.
...
Watch Trailer
Show More
Cast
Similar titles
Reviews
Should be way shorter than 2h30m! That's reserved for really special movies and this one it's very far from being special. I had to stop it after 1 hour because I was getting really bored. I'm giving it a 5 because the movie is not that bad but I feel it deserves a worse rating because of those 2h30... Plus it's full of American clichés and the usual American bullcrap. If you don't see it, don't worry, it's just not worth it. I wouldn't even think about watching it again. No, it's not a good movie and it's not even a good "heist" genre movie. If this is a "heist" movie it's the most boring I ever saw.
More
Before you even think of renting this movie I need you to stand up and go to the mirror and really look at yourself. Face the facts you simply do not have enough testosterone to watch this movie. You are worthless and weak maybe after a few weeks in prison in the gym and not shaving and some tattoos maybe then you'll have enough testosterone to watch the trailer but let's face the fact you'll never have enough to watch the entire movie
More
Absolute dynamite cast, both sides of the law are FLOORING IT for the boys, got the heart pumpin at the end. Butler sets the tone without completely stealing the show, best bank heist movie I've seen in many moons.
More
I like action movies, but they still need to have a good story, and this one delivered. My only criticism, which is a small one, was it just needed cutting because it was tad too long. There were some scenes which I feel didn't add anything to the storyline. It's not the usual heist movie, it's got a few twists and highly recommend you give it a whirl.
More