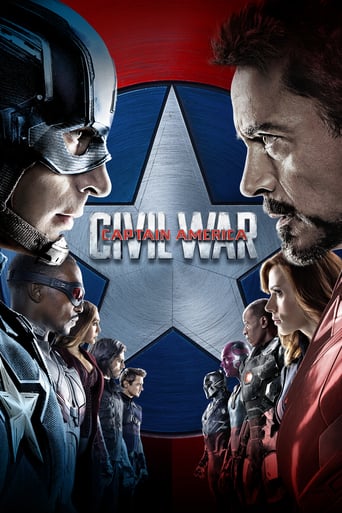 AD:This title is currently not available on Prime Video
Captain America: Civil War (2016)
AD:This title is currently not available on Prime Video
Following the events of Age of Ultron, the collective governments of the world pass an act designed to regulate all superhuman activity. This polarizes opinion amongst the Avengers, causing two factions to side with Iron Man or Captain America, which causes an epic battle between former allies.
...
Watch Trailer
Show More
Cast
Similar titles
Reviews
Very very predictable, including the post credit scene !!!
More
Don't listen to the Hype. It's awful
More
A waste of 90 minutes of my life
More
This story has more twists and turns than a second-rate soap opera.
More
I have to say i do enjoy these pop corn flick's but some characters really bore the pants of me! captain america for starters! all i can say is thank god for ANT-MAN loved the part he had in this film!
More
With amazing, heart-pounding action sequences, an intriguing character-driven storyline and several fantastic character introductions, 'Captain America: Civil War' is definitely of the MCU's best and also one of the very best in the genre. This is largely due to the way in which its 'superhero' aspects come second to its 'thriller' ones, meaning that the film is about much more than CGI extravaganza. All of the action feels entirely grounded, despite the inclusion of various clearly ungrounded superpowers, and the focus on practical hand-to-hand combat makes the film feel much more palpable. The movie is also full of emotion, as we see characters that we have grown to love pushed to their limits and forced to do things that go against their 'hero' personas, which again adds a sense of weighty realism to the picture. It's a constantly enthralling political thriller, and a lot of fun that never drags, despite its 147 minute run-time. 9/10
More
This is the movie that splits the team. The movie that leads into infinity war. This movie has everything.
More
Chris Evans' acting is too bad, and is much overshadowed by that of Robert Downey Jr. In the end, you would think that this is an Iron Man movie instead of a Captain America movie. The action sequences and visual effects are awesome, although the plot lacks credibility.
More