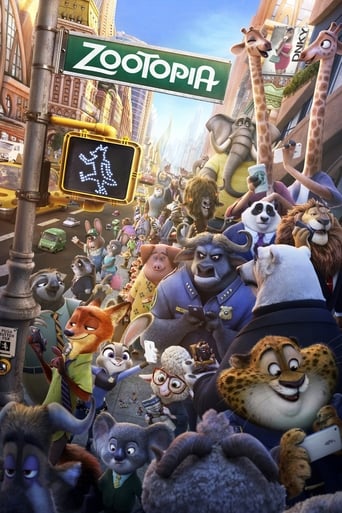 AD:This title is currently not available on Prime Video
Zootopia (2016)
AD:This title is currently not available on Prime Video
Determined to prove herself, Officer Judy Hopps, the first bunny on Zootopia's police force, jumps at the chance to crack her first case - even if it means partnering with scam-artist fox Nick Wilde to solve the mystery.
...
Watch Trailer
Show More
Cast
Similar titles
Reviews
There are some great animated movies out there, from The Lion King to The Incredibles, but this one takes a whole new spin on animated movies. Most animated movie draw adults in because they are "forced" to by their kids but this movie genuinely deserves your view whether you have kids or not. Such a great plot and such great characters. Can't wait for more from this studio!
More
Zootopia flew right into my top 5 of the Disney animated movies. And if nostalgia had nothing to say on that list, it would be on top!This is one of the few Disney movies which manages to master the fine balance between the most hilarious comedy and the darkest issues of reality. Nothing is thrown in just because it had to. It's a tale of a countryside bonnie who wants more out of life, she wants to persue that by going to the big city of Zootopia! She wants to be a cop, but everyone tells her that she hasn't got what's needed to become one simply because she is a rabbit. Beside that personal issue which has been seen a lot in recent Disney movies, there is a refreshing social comment on how society is full of prejudice, here exemplified by predator and prey. That is a brilliant metaphore! And there is no stone left unturned in the world of Zootopia! So much attention has been payed to details in every part of the city! Go watch it for yourself, otherwise I would spoil it! But such small things as how Judy Hopps shows her emotional state by how her ears are is one of the great details of the animation. She's a rabbit, get it?It will keep you at the edge of your seat, it will make laugh a lot, it will make you think about your own prejudice especially if you pay attention to our present times. Go watch it, you won't regret it!
More
Summary: A good story that is well told. Great attention to detail and humour. The characters are well written and dare I say, 'realistically' portrayed. _____________________________________________________________________I would say the story by itself is not very groundbreaking, even if all the characters are anthropomorphic animals. However, this is very well told in an engaging manner with plenty of humour and not without some surprises. I really liked the attention to detail to the design of Zootopia and how all the different species are accommodated into the city. Pop-culture references were also funny. What I liked more was how the characters were portrayed - you can believe they are actual people(?) living their lives. I especially liked the scene where a character, after a rough day, hesitates to pick up the phone call from her parents, dreading the sheer exhaustion of putting on a happy face. That was quite relatable. Overall, for a movie intended for children, it certainly has plenty of entertainment value.
More
Judy Hopps (Ginnifer Goodwin) is an optimistic idealistic bunny who wants to be a cop and make the world a better place. Her parents prefer that she stay on the farm in Bunny Burrow and make the world a better place by growing one carrot at a time. Judy obtains her wish and goes to Zootopia where the lion lies down with the lamb, both predator and prey live in harmony. In spite of 14 mammals being missing, Judy can't overcome the prejudice and stereotyping on the job and is assigned parking ticket duty. Her she meets a fox (Jason Bateman) someone she holds a stereotype and prejudice against. The overall theme of the film is diversity. Together they form an odd couple (i.e. typical film mismatched police officers) as they attempt to crack the case, one that takes them to a Godfather scene, one the adults can enjoy on a different level than the kids.There was a room where all the animals roam naked as they were intended (Bunny averts eyes of spread eagle elephant) and another scene which stereotype the DMV as sloths, reminding me of a scene from "The Hitchhiker's Guide..." These scenes while funny, went against the grain of the production.The major theme of the film is diversity, Even though some in a group are bad, it doesn't make everyone in that group bad, perhaps a light message about the current terrorist situation.
More