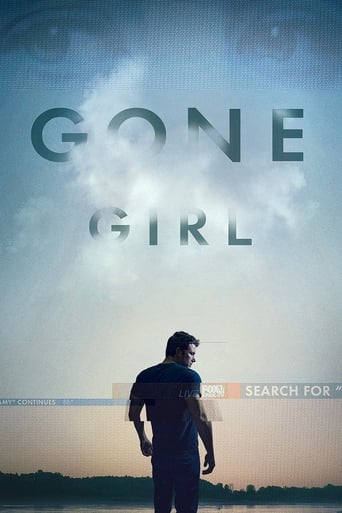 AD:This title is currently not available on Prime Video
Gone Girl (2014)
AD:This title is currently not available on Prime Video
With his wife's disappearance having become the focus of an intense media circus, a man sees the spotlight turned on him when it's suspected that he may not be innocent.
...
Watch Trailer
Show More
Cast
Similar titles
Reviews
What else do you need ???....what I love the most About this movie is that u don't know...on which side u really are.......there are very few movies out there which keeps u pushing....towards the ending......again and again wants to see the end..... 9/10 because I don't like the end.....
More
Ben Affleck is Nick Dunne and Rosamund Pike is Amy Dunne in this story that is a mystery at times, a thriller at others. I love the way that the film's exposition leads the viewer to one conclusion, then another that is contrary to the first, then another. Eventually, the film becomes a commentary on public opinion and the media, even as it explores the complexities of an unusual marriage.The action starts with the disappearance of Amy, but the story evolves quickly. I have read other reviews that decry an abundance of plot holes, but I find most of them to be misunderstandings of the story. Others can be easily explained with some creative thinking. As a whole, the story is cleverly written.This film deserves its high score. The performances are strong, even in their moments of restraint. Rosamund Pike has cited Sharon Stone in "Basic Instinct" as an influence and it is noticeable in her sometimes measured manner. Ben Affleck, at times, reminds one of the prototypical Hitchcockian hero-victim.The Reznor and Ross soundtrack is atmospheric, giving the film a suspenseful, unresolved feeling.
More
Okay , The movie had an average start even very slow then very quick rhythm giving away what was planned by the wife at once just before the middle then only focusing on that psychopath wife and the rest of the plot when an unplanned accident happened in her plan and then preparing for the ending which was a complete mess with lots of plot holes and unreasonable behaviours especially when both married couple had everything cleared the cards were exposed. The movie had a slow scheme then rising slowly till the end then collapsed with that mess that I felt you were afraid that the days would end before you finish the ending!. I am not trying to have a different opinion about that critically acclaimed movie but really the total scheme flopped from our director who only focused on bringing the wife to the screen with the more than good performance by Rosamund Pike and was a mess in the rest of it even the music didn't add anything to the scenes. Try to understand a complete mess and no entertaining only curiosity what that girl had done before she was gone and what she is doing when that plan had a turn. 6.5/10
More
Great things were expected of Gone Girl seeing as it is directed by one of the finest modern auteurs David Fincher and he delivers. This is a compelling thriller based on the novel of the same name by Gillian Flynn. Gone Girl- the book was ripe for Fincher to adapt and it is easy to see why- the book is filled with unreliable narrative, red herrings and twists. Acting is amazing from the ever-reliable Ben Affleck but it is Rosamund Pike as the missing wife who steals the show. Fantastic lighting reminiscent of Hitchcock, a deeply satisfying narrative and expert execution of the material makes Gone Girl one of the best films of the year and a must watch
More