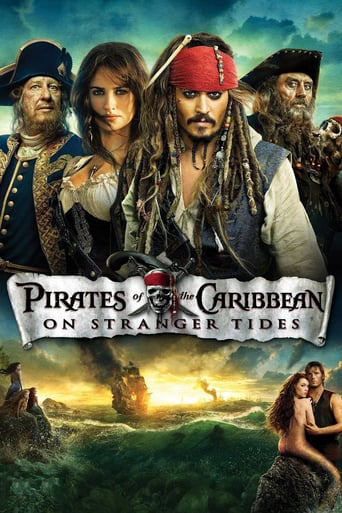 AD:This title is currently not available on Prime Video
Pirates of the Caribbean: On Stranger Tides (2011)
AD:This title is currently not available on Prime Video
Captain Jack Sparrow crosses paths with a woman from his past, and he's not sure if it's love -- or if she's a ruthless con artist who's using him to find the fabled Fountain of Youth. When she forces him aboard the Queen Anne's Revenge, the ship of the formidable pirate Blackbeard, Jack finds himself on an unexpected adventure in which he doesn't know who to fear more: Blackbeard or the woman from his past.
...
Watch Trailer
Show More
Cast
Similar titles
Reviews
For the not so demanding movie goer this might be just enough to be entertained, for anyone slightly more choosy this film is rather lame to say the least. Most elements are foreseeable, while poorly acted and story-wise unnecessary in parts. This movie is Hollywood by the numbers, an overly long fast food production without real content and an offense to the previously established characters and franchise. If you are watching this to see another part of the franchise, this might work for you. If you're watching this, expecting a good pirate movie with twists and turns and witty dialogues, you will be disappointed.
More
Continuing my plan to watch every Johnny Depp movie in order, I come to Pirates Of The Carribean: On Stranger Tides.Due to his good relationship with Walt Disney's chairman of 38 years, Dick Cook Johnny Depp agreed in pricipal to star in this film before "there was a script or anything in place." After Cook was fired, Depp said his enthusiasm for the fourth Pirates movie had reduced after Cook left the project. He said, the only reason he agreed to it was because he trusted Cook, who supported him while "others at the studio were less than enthusiastic about my interpretation of the character, Dick was there from the first moment. He trusted me." He regained his enthusiasm by recieving a paycheck with a lot of zeroes in front of the decimal point. It is about what you'd expect. It is over long (a very long-winded 137 minutes) and totally over the top. It starts off well enough as Captain Jack Sparrow impersonates a British judge, is chased through London, makes out with Dame Judy Dench and discovers someone is attempting to impersonate him, while recruiting the crew needed to man a ship. The movie is ok until they set sail. Then it all gets a bit dull. Blackbeard played by Ian McShane is ok, but is not really threatening, Penelope Cruz is fine and has good chemistry with Depp, which we knew from Blow. Will Turner (Orlando Bloom) and Elizabeth Swan (Kiera Knightley) do not return (Instead of Will and Elizabeth, we get a love subplot involving a priest and a mermaid.) but Captain Barbossa does, but he is bland and timid here. In fact he is pretty pointless, and only returns so audiences know more than two returning characters (Captain Jack's right-hand man, Gibbs is also back) Keith Richards turns up again, playing Captain Jack Sparrow's father too.Rob Marshall's direction is competent and, from a technical standpoint, there's nothing wrong with the various action sequences but it is just so blah!! The fight sequences are all impossible leaping and fast cutting, its confusing and uninvolving. The story does not engage, the characters are bland and the whole thing reeks of being a money-grab. Yet, I didn't hate it. It was watchable but nothing more!! POTC: On Stranger Tides grossed $241 million at the domestic box office to become the 5th highest-grossing movie of 2009. Whilst it was the lowest grossing Pirates movie, it was the third Depp movie to cross 1 billion dollars worldwideWhile filming in London in October 2010, Johnny Depp received a letter from a local nine-year old schoolgirl, telling him her classmates needed help to "mutiny" against her teachers. He turned up with no warning at the school in full Sparrow outfit.
More
Everything right and wrong with Pirates of the Caribbean 4: On Stranger Tides. This movie was released in 2011 and was the most popular movie in this series. The story is about the search for the source of eternal life. The author is Rob Marschall, who first directed a movie from this series. It's a historic movie, with a comic subtitle. We all enjoyed this movie and definitely recommend it! Jack Sparrow searches with Black Beard and Angelica to the source of eternal life. When they reach the source after several fights, Barbossa Zwartbaard kills revenge for his right leg. As a last hope to save his life, Angelica and Blackbeard drink from the jaws. But because Jack gave them the wrong cups, Black Bear dies and Angelica gets extra years of life. An argument contra is that there are many falsehoods in the movie, there is a lot of imagination. Some arguments pro, on the other hand, include the amazing crew, the immersive story line and the good quality. These are some reasons why you should definitely watch the movie. We are certainly not sorry that we enjoyed this movie for two hours.
More
I don't understand why so many people hate this movie because in my opinion it's very good. It's well made, well preformed (especially Jack Sparrow if you compare his performance in his latest movie) and it has an interesting story and just because there aren't so many connections with the previous movies it doesn't mean it has to suck. It's one of the best in the franchise and i absolutely love it and am glad they made this movie. I suggest this movie to everybody and don't listen to the haters just make your own opinion about it.
More