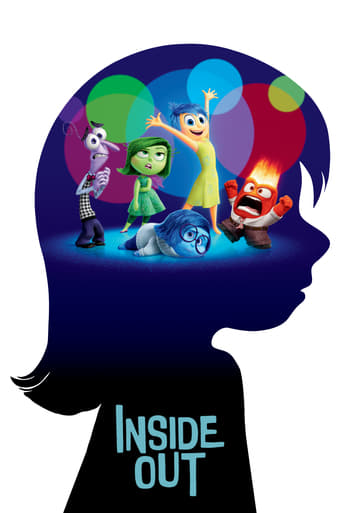 AD:This title is currently not available on Prime Video
Inside Out (2015)
AD:This title is currently not available on Prime Video
Growing up can be a bumpy road, and it's no exception for Riley, who is uprooted from her Midwest life when her father starts a new job in San Francisco. Riley's guiding emotions— Joy, Fear, Anger, Disgust and Sadness—live in Headquarters, the control centre inside Riley's mind, where they help advise her through everyday life and tries to keep things positive, but the emotions conflict on how best to navigate a new city, house and school.
...
Watch Trailer
Show More
Cast
Similar titles
Reviews
I've always been a fan of disney, pixar, etc. and this is one of the best animated films i've seen!
More
I like this movie, but, I just can't watch it anymore. The more I watch it, the more I realize that it's just too incredibly sad and depressing, and the music on top of that makes me want to die. It's too awful. The whole combination of it all just makes for a garbage film. At least Frozen was fun.
More
Inside Out is one of my personal favorite movies. Reasons why?1. It's funny 2. Great animation 3. The plot is understandable 4. Great actorsSure, movies like Toy Story 1 and 3, Coco, and Finding Nemo were better, but this is still an absolute must-watch you should see.10/10
More
From animals having feelings, to technology having feelings, to even toys having feelings, Inside Out continues the trend with feelings having feelings. Its release in 2015 was more than anticipating with its general audience being young children. The movie started off with the birth of the main character, Riley. With that, it included how when each person is born, so are their emotions. Fear, Disgust, Anger, Sadness, and Joy, who was the first to appear. As Riley grew up, each of her emotions appeared as well of the making of each of her core memories. Everything begins to switch up and get off track when Riley and her parents move from Minnesota to San Francisco. From there Riley begins to experience different feelings such as low self esteem and low confidence. The story was setting off to the viewers what goes on in young children's minds. A move for example, as used in the movie, can effect a child greatly, mentally.
More