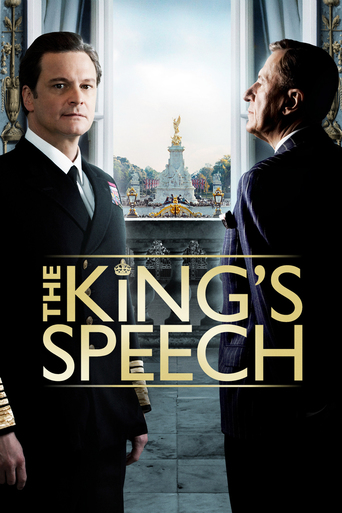 AD:This title is currently not available on Prime Video
The King's Speech (2010)
AD:This title is currently not available on Prime Video
The King's Speech tells the story of the man who became King George VI, the father of Queen Elizabeth II. After his brother abdicates, George ('Bertie') reluctantly assumes the throne. Plagued by a dreaded stutter and considered unfit to be king, Bertie engages the help of an unorthodox speech therapist named Lionel Logue. Through a set of unexpected techniques, and as a result of an unlikely friendship, Bertie is able to find his voice and boldly lead the country into war.
...
Watch Trailer
Show More
Cast
Similar titles
Reviews
Great "story", incredible acting and delivery, the serious tone of the movie is peppered with an underlying sense of humor, the mise-en-scene is awesome, a definite must-watch! Its one of those movies that lets a viewer really connect with the characters, one is convinced they are playing themselves, not roles. My only regret is that having seen it, I'll never be able to experience the first-viewing again. More than recommended!
More
Movie Review: "The King's Speech" (2010)At a time when radio broadcasts took their stain on newly-created human mass media demands, the radio device as powerful tool of seduction, manipulation and conviction became a worldwide phenomenon in mobilizing populations in a decade of the war-mongering world of late 1930s.Director Tom Hooper, known for the infamous excellent-executed HBO mini-series "John Adams" in season 2007/2008, rules a original script by David Seidler based on true events with pitch-perfect blocking within composing a 1.85:1 aspect ratio wide-screen full-frame, shot on rarely-received, yet visually-convincing 35mm filmstock in extreme-wide lenses of character close-up gripping cinematography by Danny Cohen, when leading actor Colin Firth presents the emphasisms of an over-demanding part of King George VI to full emotional extensions in constant beat work of needle-pin-pointing proportions in gesture and voice supported by fellow acting colleague Geoffrey Rush, performing as light-hearted, leisure-to-relaxation indulging character of Lionel Logue; who then together build one of the most adorable friendships in cinema history, which in its less then 120-minutes-paced editorial by Tariq Anwar can be enjoyed as a timeless piece of motion picture entertainment without losing punch of conviction when an unless fulminate simplistic score by composer Alexandre Desplat steps aside for high-suspense montage of King George VI holding his famous speech onto the nation, declaring War on Nazi-Germany in late 1939 under Ludwig van Beethoven's composition of Symphony VII.The supporting cast organized by long-term Industry-insider Nina Gold brings together the finest actors of a contemporary cinematic landscape including actress Helena Bonham Carter, portraying as Queen Elizabeth in restrainted fashionable royal manners leading her husband, actor Michael Gambon shifting in his range from a visciously-demanding father on Christmas Eve to a dementia-armchair-struck old man as the character of King George V; when actor Guy Pearce shares beats of playboy-maximes-manifesting, younger-brother-pushing King Edward VIII, who eventually lies down his coronation-infested obligations for the life of leisure and bliss at mansion of the Cote d'Azur, when further actor Derek Jacobi completes the circle of supports as king-making, sacred-coronation-chair-guarding Archbishop Cosmo Lang at Westminster Abbey in constant tension-building scenes of rare exception in a classic genre of drama.Director Tom Hooper shows his strengths by pairing dramatic moments as childhood confessions of abuse by King George VI under atmospheric bluish skylight atmosphere in a memorable paint-splintered hide-out room of London surburbias, when suprisingly slight infusions of tasteful comedy, especially in the King's vocal exercise scenes, make this Academy-Award-Winning Best Picture produced by Iain Canning and Emile Sherman at See-Saw-Films a success in every department.© 2018 Felix Alexander Dausend (Cinemajesty Entertainments LLC)
More
A brilliant movie overall.Two possibly interesting points:A couple of times the king or prince whispers "brother" or other words under his breath. What is with that?Telling a story to his daughters; the prince rather wickedly hints that the penguin would be turned into what all girls would like -- a handsome prince. Instead he transforms a "handsome prince" into a "short-tailed albatross" (which have very long wings) -- much to the dismay of the little girls. The look on one of the girl's faces is priceless.I digress. One may wonder what birds have to do with anything. As an amateur naturalist, I am rather certain of the answer.A good percentage of Brits love and have loved bird-watching for decades.So it would not be surprising for a royal to make references to birds.Just goes to show how detailed the screen writing was.Again I loved this movie.
More
Yes this was a great film, but it was way too slow paced for my liking. The 2 hour length should have been cut down to 1:20 - 1:30 mins. However, Tom Hopper's directing was great but I guess you are limited in what you can achieve with the script handed to you. Colin Firth, Geoffrey Rush and Helena Bonham Carter were great in their roles, although their characters seemed a little stale. Nevertheless, I guess it all depends on ones taste, so it's only a 6/10 from me.
More