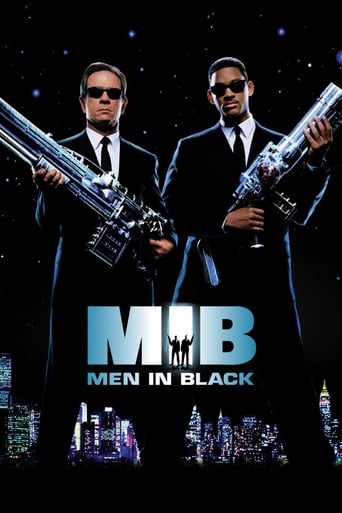 AD:This title is currently not available on Prime Video
Men in Black (1997)
AD:This title is currently not available on Prime Video
After a police chase with an otherworldly being, a New York City cop is recruited as an agent in a top-secret organization established to monitor and police alien activity on Earth: the Men in Black. Agent Kay and new recruit Agent Jay find themselves in the middle of a deadly plot by an intergalactic terrorist who has arrived on Earth to assassinate two ambassadors from opposing galaxies.
...
Watch Trailer
Show More
Cast
Similar titles
Reviews
A police officer joins a secret organization that polices and monitors extraterrestrial interactions on Earth. Men in Black starts Will Smith and Tommy Lee Jones who have a really terrific chemistry together as for Vincent D'Onofrio as the villain? He did alright but he is a pretty damn goofy antagonist if you ask me. The film's cgi are a bit dated but then again we're talking about a 1997 movie alright? Both Smith and Jones are phenomenal especially Will who delivers most of the humor and he is just a joy watching him on screen being both the funny guy and the cool guy as for Jones he is more of the straight guy cracking a smile here and there all serious and cool. (8/10)
More
Good acting, great world building, great and unique alien design, good pacing, freaking Will Smith, and it's just an overall fun imagining of the ol cryptid tales of the MEN IN BLACK. A must watch.
More
Men in Black is a wonderful Saturday morning cartoon taking the form of a highly-stylized Hollywood blockbuster, and is probably the best example of the inimitable charisma Smith is so famous for. Not all the humor holds up (corny one liners), but most of it really does (anything Jones says, everything D'Onofrio does).
More
Continuing my plan to watch every Will Smith movie in order, I come to Men In Black (1997)Plot In A Paragraph: A New York police officer (Smith) joins a secret organization that polices and monitors extraterrestrial interactions on Earth.How do you follow the highest movie of the year, was the problem facing Will Smith, and truthfully he chose very well!! With the movie and the the song, he was everywhere!! But personally I've never really got this movie, I thought it was watchable at the time, and have never thought more about it when I have caught it on TV in the 20 years since. I always though the Will Smith song Men In Black, was better than the movie itself. The only thing I really enjoyed, was seeing Sly Stallone as one of the Aliens being monitored on a big screen. Watching it back to back with Bad Boys and Independence Day. Will Smith's cocky act is beginning to irritate me a bit. I didn't notice it at the time, as in 1997, I dancing along in night clubs to his various hit singles like Getting Jiggy Wit it, Miami and the theme song from this. Isolated it didn't bother me, watching it them together, it's a bit tiresome. Tommy Lee Jones is the best thing in this movie. His timing is perfect. Men In Black grossed $306 million at the domestic box office, to end 1996 the 2nd highest grossing movie of the year. If it wasn't for Titanic, this would have ran away with it, as it was well clear of Jurassic Park 2.
More