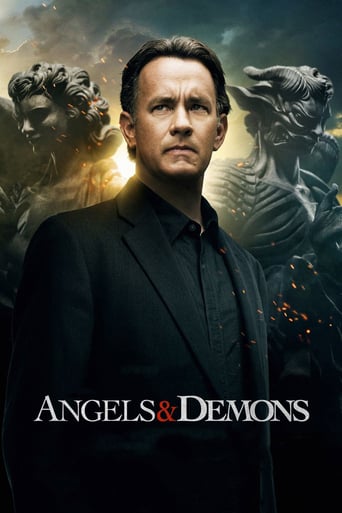 AD:This title is currently not available on Prime Video
Angels & Demons (2009)
AD:This title is currently not available on Prime Video
Harvard symbologist Robert Langdon is recruited by the Vatican to investigate the apparent return of the Illuminati - a secret, underground organization - after four cardinals are kidnapped on the night of the papal conclave.
...
Watch Trailer
Show More
Cast
Similar titles
Reviews
A Major Disappointment
More
Tells a fascinating and unsettling true story, and does so well, without pretending to have all the answers.
More
A story that's too fascinating to pass by...
More
"Angels & Demons" is the first sequel to "The DaVinci Code", with Tom Hanks (playing Robert Langdon) being the only returning cast member. Once again, the film deals with conspiracies surrounding the Pope. This time, it's the Pope, the Illuminati and the Vatican in general. The movie, although filled with a great cast, is luck-lustre and features unbelievable action sequences and somewhat twisted motives. The feeling surrounding this film is not great, and fails as a predecessor to the fantastic conspiracy in "The DaVinci Code". Overall "Angels & Demons", overall, was not as interesting as "The DaVinci Code", and only passes as an OKAY film.
More
This movie made it from a solid 7/10 on my personal rating scale up to an 8, just barely, because the ending was absolutely fantastic.I highly recommend watching this with family and loved ones. It is a warmer movie than movie #1 The Da Vinci Code, and there is more love. It felt more balanced than the first film did to me.Enjoy. You can thank me afterwards.
More
The only thing I like about this movie is it serves as the perfect example of what's wrong with contemporary Hollywood movie-making. The story is so completely ridiculous and implausible and yet is played with such deadly earnestness that I didn't know whether to laugh or throw up. From beginning to end the audience is treated with such disdain and contempt that it's obvious Ron Howard and crew assume American moviegoers are the stupidest people on the planet (which, unfortunately is probably true given this film's rating on IMDb). SPOILER: a dead eyeball will not clear a retina scanner! And the fact that all these inane goings-on so obviously cost millions and millions of dollars to create just highlights the vacuity and pointlessness of the whole adventure. Sadly depressing.
More
Harvard symbologist Robert Langdon works to solve a murder and prevent a terrorist act against the Vatican. Angels & Demons is the sequel to the 2006 The Da Vinci Code starring Tom Hanks, Ewan McGregor, Ayelet Zurer and Stellan Skarsgård and unlike the first film this has way more suspense than the original plus Hanks once again did a fantastic job and the same goes for the rest of the cast as well. It might be a little bit slow at times but it provides a very interesting story and a really cool twist and in my opinion it's nowhere near as bad as many people made it sound like. Overall "Angels & Demons" gets an A+ and a 10/10
More