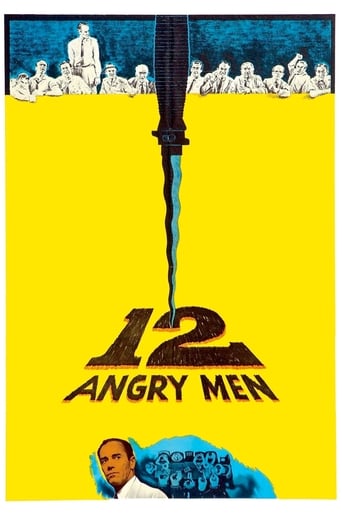 Watch Now
Subscription

Watch on Paramount+

Watch on Freevee

Watch on MGM+
Rent / Buy
Buy from $14.99
Rent from $3.99
12 Angry Men (1957)
April. 10,1957
|
9
|
NR
|
Drama

Watch Now
Subscription

Watch on Paramount+

Watch on Freevee

Watch on MGM+
Rent / Buy
Buy from $14.99
Rent from $3.99
The defense and the prosecution have rested and the jury is filing into the jury room to decide if a young Spanish-American is guilty or innocent of murdering his father. What begins as an open and shut case soon becomes a mini-drama of each of the jurors' prejudices and preconceptions about the trial, the accused, and each other.
...
Watch Trailer
Cast
Similar titles
Reviews
Overrated and overhyped
More
it is finally so absorbing because it plays like a lyrical road odyssey that's also a detective story.
More
It is not only a funny movie, but it allows a great amount of joy for anyone who watches it.
More
Unshakable, witty and deeply felt, the film will be paying emotional dividends for a long, long time.
More
At first, I thought it was a boring movie. I started watching this with a delicious popcorn on my hand. As the movie played, I started to amazed on the story line of this movie. Honestly, I feel the tension of this movie. It is one of the best movie I ever watched.
More
Parents need to know that 12 Angry Men is a gripping 1957 drama that makes much out of a simple situation (the ordinary deliberations of a jury) and setting (the room where they have been sequestered). Jurors smoke cigarettes throughout the movie. Biased jurors state as a "fact" that minorities drink too much alcohol. There is one "damn." A young man is accused of stabbing his father to death. Jurors nearly come to blows over disagreements about the case. One juror threatens to kill another in the heat of the moment. The fact that this jury is made up exclusively of white males should be explained to kids as a sign of the film's time period. Despite its age, this drama still has a lot to say about the principles on which the American justice system is based, as well as issues of prejudice.
More
Amazing Movie... Watch it to see an Architects perspective as well..
More
Makes you think, makes you wonder, makes you doubt and admire.
More