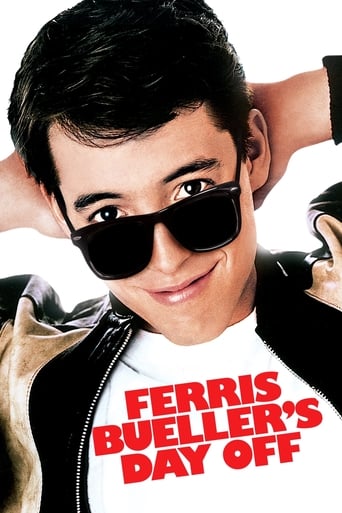 Watch Now
Subscription

Watch on Paramount+

Watch on AMC+

Watch on Fubo TV
Rent / Buy
Buy from $14.99
Rent from $2.99
Ferris Bueller's Day Off (1986)
June. 11,1986
|
7.8
|
PG-13
|
Comedy

Watch Now
Subscription

Watch on Paramount+

Watch on AMC+

Watch on Fubo TV
Rent / Buy
Buy from $14.99
Rent from $2.99
After high school slacker Ferris Bueller successfully fakes an illness in order to skip school for the day, he goes on a series of adventures throughout Chicago with his girlfriend Sloane and best friend Cameron, all the while trying to outwit his wily school principal and fed-up sister.
...
Watch Trailer
Cast
Similar titles
Reviews
This is one of the few movies I've ever seen where the whole audience broke into spontaneous, loud applause a third of the way in.
More
A great movie, one of the best of this year. There was a bit of confusion at one point in the plot, but nothing serious.
More
This is a gorgeous movie made by a gorgeous spirit.
More
There are moments in this movie where the great movie it could've been peek out... They're fleeting, here, but they're worth savoring, and they happen often enough to make it worth your while.
More
This movie was one of my favorites!! A classic that I highly recommend you to watch!!!!
More
This is the kind of movie we always remember in some life situations. Although they make a caricature of reality as in class and the reactions of children, it is almost a perfect description of many real situations for example. The script was well assembled so as not to leave future actions so explicit. It was recorded in an engaging way with some narratives directed to the viewer made by the main actor himself without making it seem strange. The roles put in the film are common characters for students and make them identify real people from their lives. A great movie to see again from time to time.
More
An irreverent eighties comedy with only one message, the one above. Mostly harmless slapstick but there was one utterly cringe worthy moment when Ferris pretending to be his girlfriend, Sloane's father who came to pick her up in order to cut school without getting caught starts snogging her and the principal/headmaster was like eh I guess that's how they greet in the family. Yikes! Not as bad as the comedies nowadays though.
More
I really wanted to like it, after hearing friends talk about it like it were some paradigm of coming of age masterwork. But I really couldn't. The main character takes a day off, behaves badly and gets away with it. Which would make for a funny, cheeky film, weren't for the fact that such main character is an unlovable, self-absorbed young idiot. The film itself has more plot holes than a narrative colander and the other characters are little more than cardboard cutouts. Charlie Sheen fleetingly raises the tone slightly with a tiny, well acted part of a juvenile delinquent -- but this is pretty much the only positive thing I can say about this absolute dud of a movie.
More