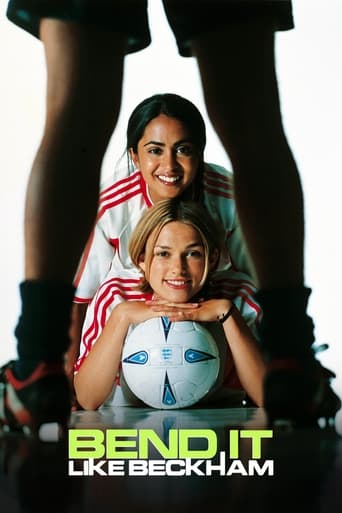 Watch Now
Subscription

Watch on Paramount+

Watch on Max

Watch on CineMAX
Rent / Buy
Buy from $4.99
Rent from $3.59
Bend It Like Beckham (2003)

Watch Now
Subscription

Watch on Paramount+

Watch on Max

Watch on CineMAX
Rent / Buy
Buy from $4.99
Rent from $3.59
Jess Bhamra, the daughter of a strict Indian couple in London, is not permitted to play organized soccer, even though she is 18. When Jess is playing for fun one day, her impressive skills are seen by Jules Paxton, who then convinces Jess to play for her semi-pro team. Jess uses elaborate excuses to hide her matches from her family while also dealing with her romantic feelings for her coach, Joe.
...
Watch Trailer
Cast
Similar titles
Reviews
if their story seems completely bonkers, almost like a feverish work of fiction, you ain't heard nothing yet.
More
If you like to be scared, if you like to laugh, and if you like to learn a thing or two at the movies, this absolutely cannot be missed.
More
Actress is magnificent and exudes a hypnotic screen presence in this affecting drama.
More
It's simply great fun, a winsome film and an occasionally over-the-top luxury fantasy that never flags.
More
If you asked me what my favorite movie was without hesitation I would tell you it's this one. Sure I am a tad biased towards it as I am a female who loves soccer more than anything AND support Manchester United, BUT... even if you aren't I can almost guarantee you'll like this movie.I've watched Bend It Like Beckham more times than I can remember and I only find myself writing this review because I'm procrastinating writing my essay on belonging in which this movie is my related text. I was hesitant to analyze and pick apart my favorite movie at first but I have found my love for the movie only deepened as i went. No only is this movie funny and a perfect family movie to watch but it carries so many important messages about racism, gender equality, society and religious expectations, sexuality, sportsmanship, relationships and many many more (including belonging). Sure it had it's flaws (I couldn't flaw it but i know many people can and that's understandable) but for a small budget movie, I personally think it is amazing. and would HIGHLY recommend!!!
More
I finally watched this movie over the weekend and it was pretty much what I expected, hence my OK rating of 6/10. The film portrays Jess, a teenage Panjab Indian living in London, who has special skills playing soccer. However, her family wants her to go to school, get a husband, get a job, have kids, and be bored the rest of her life. Jess will have none of it. The story goes on a predictable trail where she is discovered, gets to play on a girl's team, wins her father's heart, wins the final game on a penalty kick, and goes off to America on a soccer scholarship. Very neat and clean movie, but not much substance.There were several problems with this film. It could have been a lot shorter. Most of the soccer scenes could really have been cut down. The dancing at the wedding could have really been cut. The silly, puzzling story line of potential lesbianism should have seen the editing floor up close and personal, right next to the stupid homosexual scene with her best friend. For these, I blame the director. He tried to add some substance to a movie that really barely could handle what it had.The one bright spot was the exceptional acting of Jess's father. He was rock solid, believable, as was the other girl's father. But the two mothers, especially the English one, Juliet Stevenson, was way over the top. Again - fault of the director. Lastly, the coach, Joe, was OK, but really, come on, you know you're not supposed to fraternize with your female team, and you break the rules big time. If I was his boss, I'd have fired his butt on the spot.So, ignore all that nonsense, plus the unnecessary story lines, and you have a nice little teenage angst story with the Indian cultural twist to add some spice. If the Director had settled for that, this movie would have been much better.
More
My daughter made me watch Bend it Like Beckham with her several years ago, and I found it to be one I can re-watch. It contains very little of the teenage romance and clothing angst that often fills young adult movies. What it does have is a lot of humanity and heart. This movie is made up of a multitude of small moments of cultural misunderstanding: some cute, some mean, some funny, all of which need to be resolved by Jess and her parents. It does a wonderful job of showing us the contrast between English and Hindu (living in England) middle class home life. It is about following dreams and using talents, within the cultural clash and racial prejudice of middle class suburban London. Set in Houndslow (a suburb near Heathrow airport) Jesminder Bhamra (Parminder Nagra) is an eighteen-ish girl caught between living in British society and living in a household still grounded in Hindu culture. Father is an airline pilot for (apparently) an Indian airline (he wears a turban in uniform). Jess is an extremely talented footballer (soccer) always running circles around the boys in the pickup matches in the park. She knows her soccer days will soon end with an arranged marriage and her mother's life ahead of her. She is unaware of any alternative, nor of any possible future as a girl soccer player. Enter Jules (Keira Knightley) a star player in a girl's league. She sees Jess beating up on the boys in the park and stops to watch on successive days then approaches her to join their team. Jess is stunned to learn there is such a thing as a girl's league. Jules also tells her there are even girl's pro teams in America. Jess joins her team and through teamwork and selflessness they become a deadly duo in scoring and assisting.Of course, there are problems: Jess has to keep the girl's team a secret from her parents, her mother is constantly demanding of Jess's time to do traditional tasks, her relationship with a white girl is cause for much gossip and malicious rumor within the Hindu community, she must bare her legs in public by wearing shorts, and there is a hint of romance with the coach (Jonathan Rhys Meyers) that causes a rift between Jess and Jules, conflicts and trust issues with her sister, and Jules's mother begins to think the girls are lesbian. Once her parents learn that she is playing on a team, they stand united that football is at an end and she will get married or go to university and then get married. Jess continues to sneak off and play until the championship game conflicts with her sister's wedding. But with the help of her cousins and her father, she gets away from the reception and plays the second half, returning to the wedding celebration wearing a huge smile that is not lost on her father.Poor father (Anupam Kher). He's the lynch pin of the story. As a young Hindu man in England he had been shunned on the cricket fields and quit on his dream in disgust. Now, he's caught between his daughter's dreams, talent and joy as a footballer; his assumption is that she will face the same indignities he had. He watches part of a match where Jess is obviously fouled by a white girl, but when Jess reacts badly it is she that draws the red card; thus enforcing her father's conclusion. There is also his wife's insistence that Jessminder must pursue a traditional life in the role of a subservient Hindu wife and mother. After the championship game, when the family discovers that Jess scored the winning goal, and has won a scholarship to play soccer in America, Father succumbs and refuses to deprive his daughter of the happiness that he threw away. At the end, both Jules's and Jess's families are saying goodbye at the airport. Jess's passionate kisses with the coach seemed ignored by her mother. I find this a script flaw. A Hindu mother (and most other mothers) would've reacted and could've been a nice comical ending moment. There was some predictability to the story, and I felt the end was a bit rushed. But all-in-all I found it an enjoyable and memorable movie from start to finish.
More
The premise was intriguing, if trite. Girl wants to play soccer, traditional family refuses, girl runs off and does it anyway. Unfortunately, the execution was mediocre and we only saw part of the movie.The very beginning was amusing. We see a televised soccer match with David Beckham on the team, there is trouble getting the ball through, and suddenly a female player gets the ball and scores an unlikely goal, to the world's adulation. Well, except for when several sports commentators talk to the girl's mother, who is critical of her being in the soccer game in the first place and showing her legs to thousands of people. It was the girl's imagination, of course-and real life intrudes when she is called down to deal with preparing for her sister's upcoming wedding.Unfortunately, then comes a bunch of shouting back and forth, clichéd and not well-acted. A standard clash of Indian and English cultures, and it quickly got tedious, so we gave the rest a miss. The idea could have been done much better.
More