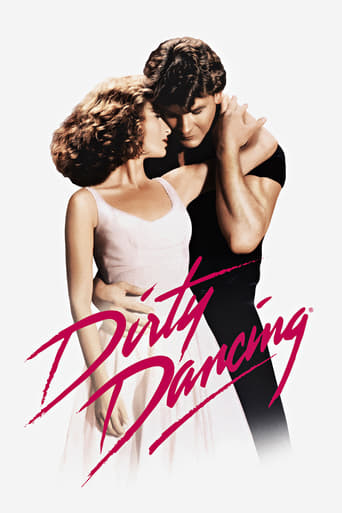 AD:This title is currently not available on Prime Video
Dirty Dancing (1987)
AD:This title is currently not available on Prime Video
Expecting the usual tedium that accompanies a summer in the Catskills with her family, 17-year-old Frances 'Baby' Houseman is surprised to find herself stepping into the shoes of a professional hoofer—and unexpectedly falling in love.
...
Watch Trailer
Show More
Cast
Similar titles
Reviews
This is my ultimate favourite film. Romance, Dancing and one very sexy Patrick Swayze.
More
When I first saw Dirty Dancing years ago, I was stunned by how much of it I recognized from my past and how true it rang for me. Nobody except John Sayles (and later the authors of Good Will Hunting) had ever brought a time and a place so familiar to me so alive on the screen before. It was all there - the Ivy league protocol and manners (I went to Cornell, like Neil), the resort's silly entertainment, the lodge and cabins, the Houseman's table manners - everything was just as I remembered, INCLUDING the presence of other people that we werent really "suppose" to associate with as much. At least not invite them to dinner anyway, unless they were perhaps courageous bums like Jack Dawson in Titanic, or maybe....just maybe......handsome and talented dancers? Anyway, but thats just the set up. Author Eleanor Bergstein knew the era well and depicted it with stunning accuracy and brutal honesty. But the real story is about dancing and the sexual awakening of an innocent young girl, Baby Houseman. In that role, Jennifer Grey was perfect, and the transformation she undergoes throughout the film never strains credibility nor seems contrived or forced. Not an easy feat considering how much she was intent on growing up that summer.Other cast members contributed mightily to this classic. Baby's parents projected just the right mix of parental authority and love for their daughter, an essential ingredient throughout. Meanwhile, well educated Neil and Robbie were superb as the cocky nerd and womanizing cad, especially when contrasted with Johnny. And I especially loved Baby's relationship with Penny and how Penny ultimately came to respect her after treating her like trash in the beginning. Last but not least, Patrick Swayze was magnanimous - combining raw power and sexuality with vulnerability and a soft heart, I couldn't imagine the movie without him.Finally, the music and dance was absolutely essential to the success of this film. The dance needed to be sexualized as it was important to the plot, but it never crossed the line into bad taste or vulgarity. The musical choices were all superb, and the closing dance scene is one of Hollywoods most memorable. All in all, I never stop enjoying this movie, and expect to see it again and again periodically for the nostalia and memories it never fails to conjure up.
More
This romantic drama dance film is one of the most popular films among female audiences. I think the reason that I can't enjoy it much is that it's so strongly aimed at female viewers.The songs and the dancing are good. This film is better than most chick flicks.It's set in the Catskill Mountains in New York in 1963, so it's bizarre that it includes 1980s songs.There is a prequel, Dirty Dancing: Havana Nights - and a remake. Both are inferior to the original.
More
You can easily see why this movie became such a hit back in the day and still loved today by younger and older generations. This movie got a wonderful soundtrack, great actors, lots of dancing, drama and comedy. Even if the movie is set in the 60s it has that long gone feeling of the carefree, happy 80s. Grey and Swayze are captivating and they just has that untouchable charm that you only can find in these lovely movies from the 80s. I will also give cred for the wonderful cinematography which capture the colors of the nature scenes. This is a must see for everyone!
More