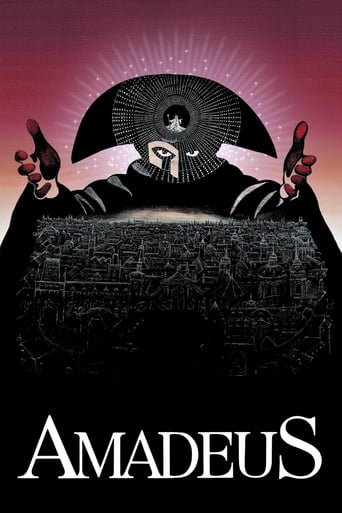 AD:This title is currently not available on Prime Video
Amadeus (1984)
AD:This title is currently not available on Prime Video
The incredible story of genius musician Wolfgang Amadeus Mozart, told in flashback by his peer and secret rival, Antonio Salieri—now confined to an insane asylum.
...
Watch Trailer
Show More
Cast
Similar titles
Reviews
All actors in this movie are top notch and deserve the oscars also the cinematic spectacle of hearing beautiful music put to life on screen even though i recommend to every one I only think it can drag on alittle bit
More
The life and times of the "First rockstar". Funny and light, dark and tragic, sometimes at the same time. A larger than life spectacle and the life of a great man. Told from the perspective of jealous Salieri, very engaging and entertaining.
More
I went in this movie blind just looking at the cover and the small summary. I very much enjoyed it. The acting was entertaining I love the ridiculous attitude of Mozart and how to everybody around him seem he's crazy/odd. Such example would be his laugh it's very awkward and uncomfortable, no one says anything though because there is no doubt to them he is an artist and they have to respect for that. This all comes off as appealing to the story. Very fitting for the story of Mozart. What gets most into the film is the spite pushed the whole time that Mozart was seemed to never really aware of and that is beautiful. This was really a film about an artist and it was displayed perfectly.
More
As of this writing, I have about 90 reviews on IMDb. I'd only began submitting reviews a few years ago, so the films I'd seen in the past were never reviewed by me. I thought I'd take the time now to give a quick review of the 10/10 films I'd seen in my life.First one up is "Amadeus," and to me, the best film ever made. It's the movie I compare all others to, including classics like "The Godfather," "Citizen Kane," and "Schindler's List.""Amadeus" has it all - excellent acting, excellent cinematography, excellent costume design, excellent music production, excellent set design, perfect combination of comedy and tragedy, and tons and tons of classic, memorable lines, especially those delivered by Salieri. I saw this movie in the theatres when it first came out. I was 18 years old and it made me fall in love with classical music. Director Milos Forman is truly a wonder, given that he's helmed quite a few films that made my top 25 list - "One Flew Over the Cuckoo's Nest" and "Ragtime." How fitting it should be, then, that my favourite song of all time appears in one of his films, "Hair." Coincidence? I think not. The man's a genius, plain and simple. He's also caused me to structure some of my screenplays and novels based on "Ragtime." Talk about influential.
More