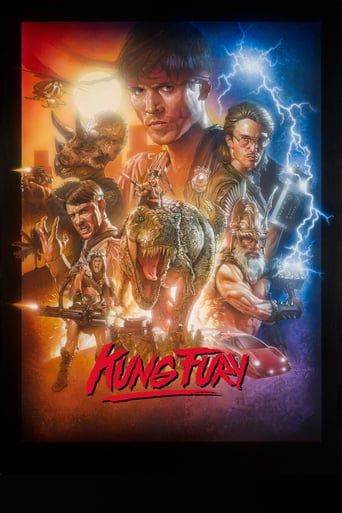 AD:This title is currently not available on Prime Video
Kung Fury (2015)
AD:This title is currently not available on Prime Video
During an unfortunate series of events, a friend of Kung Fury is assassinated by the most dangerous kung fu master criminal of all time, Adolf Hitler, a.k.a Kung Führer. Kung Fury decides to travel back in time to Nazi Germany in order to kill Hitler and end the Nazi empire once and for all.
...
Watch Trailer
Show More
Cast
Similar titles
Reviews
Kung Fury is what you get when you take 80's action movie cheese and mix with a healthy dose of satire and every 80's movie cliche you can imagine. The result is just pure awesomeness. The original movie was only supposed to be about 10-20 minutes but when they put it on Kickstarter suddenly the money came rolling in and they just kept adding to it and adding to it until it topped out at 40 minutes. The story itself is... every 80's movie ever made. You've got the buddy cop story. You've got the cool 80's hacker. You've got a revenge motive. You've got martial arts. And you have David Hasselhoff. And there's also time travel, laser raptors, Viking babes, Thor and the most evil martial artist of all time Adolf Hitler a.k.a. Kung Fuhrer. It's ridiculous. It's silly. And it's altogether awesome. Do yourself a favor and check it out on Youtube.
More
WOW! what an awesum film on Hitler - this has to be seen to be believed - wish it was a movie it is so Terrific..... well worth watching ...
More
The music, the cars, the action, all a fan could want of a short like this, and now the full feature is on it´s way, and the theme by the HOFF, it´s such a great track, i have on my car, everyday i hear it, long live the 80´s :)
More
Watch this movie. It's cool. It has a lot of cool stuff. It's really neat. The cop guy, who's name is Kung Fury (I think) is cool. The monsters are cool. The Kung Fu moves are a little lame. I could do better. The special effects using a green screen are excellent considering the low budget--but the guy raised money on Kickstarter, so what do you expect?I highly recommend this film to all my friends and even some people who are not my friends. I did think it was stupid that the bad guy turned out to be (spoiler). How lame is that?I'm really looking forward to Part II.
More