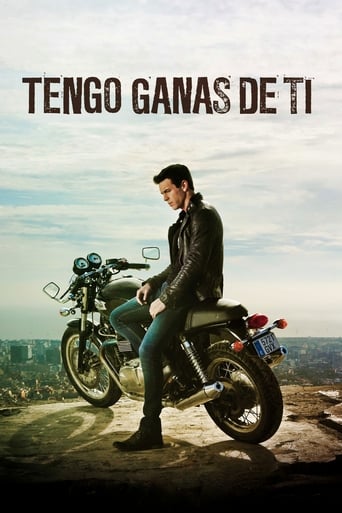 I Want You (2012)
The sexy Gin is the new love of Hache, but this can not forget his former girlfriend, so the love triangle is inevitable.
...
Watch Trailer
Cast
Similar titles
Reviews
It's not bad or unwatchable but despite the amplitude of the spectacle, the end result is underwhelming.
More
what a terribly boring film. I'm sorry but this is absolutely not deserving of best picture and will be forgotten quickly. Entertaining and engaging cinema? No. Nothing performances with flat faces and mistaking silence for subtlety.
More
Whoever designed the color scheme of this film really nailed the romanticized aura of Barcelona. Too bad that's not all that a film's supposed to be because other than this aspect of the film, there's not much to it. All the key scenes are so forced, artificial, and cheesy as if a kid drew up the entire movie than a competent cinematographers rendered his cheesy-ass fantasies into fruition. If I were you, I'd stay clear away from films like this. Pure 130 minutes of disappointment.
More
The movie has a little bit of everything such as love, secret affair, betrayal, friendship, family tragedy, and coming-of-age, but it lacks a central focus and thereby, at the end of the movie the viewer feels like "I would have guessed this easily" and "nothing much has happened since the start". A good and riveting movie should attract the viewer into the film on its own despite being a sequel. Yes, there is a story, but it is so predictable and slow-moving. Besides, the characters are not elaborated throughout the movie. Hugo, the protagonist seems to be in agony, but only because of losing his best friend or having been dumped by Babi, who seems to be too shallow as a character. They should have gone deeper on Hugo's character and built a solid character. Side-line stories like the family tragedy of Babi's parents serve no purpose and they seem to have stolen from the main story. Because of not dwelling on the main story between Hugo and the girl he just met, it is difficult, as a viewer, to feel the love among this couple. Despite these lacking points, it can be a good shot for romance- lovers.
More
Mario Casas leads the cast of this sequel of ¨Three Meters Above The Sky¨ the story of two young people who belong to different worlds ; this one starts with the return of the misfit , impulsive , unconscious young man H (Mario Casas) , to his hometown where meets his mother (Carme Elias) and reconnecting with the past means struggle and also a new love (Clara Lago) who reluctant at first but finally falls in love for him . Meanwhile , ¨H¨ gets mixed up with some tough as well as bad guys and is embodied in endless fights and illegal motorbike races , the limit of common sense . Later on , ¨Hache¨ meets again Babi (Maria Valverde) , the girl from upper-middle class that was educated in goodness and innocence .Sensitive as well as romantic drama is loaded with an enjoyable triangular love story , twisted situations and with a distinctly Spanish idiosyncrasy . It is the chronicle of a love improbable , almost impossible between two maladjusted young people : Mario Casas and Clara Lago but inevitable dragging in a frantic journey in which he discovers again his first great love : Maria Valverde . Although is full of predictability and cliché-ness the film results out to be pretty entertaining . It turns out to be pleasantly fun that offers no intellectual stimulus whatsoever ; an exercise in pure escapism in which entertainment and thrilling happenings are guaranteed . Passable acting by Mario Casas as Hache , a rebellious boy who has an appetite for risk and danger , a ¨rebel without a cause¨ , in James Dean'style . This is Mario Casas's most important screen appearance in screen and pretty well Clara Lago as the beautiful dancer Gin . And agreeable and charming Maria Valverde as the innocent Babi . As shown in the film, H and Babi develop a relationship , well, the two actors developed a relationship of their own in 2010 , though it is known that the two broke up in September of 2014 . Ample support cast formed by newcomers who would have an acceptable and uneven career , such as : Ferran Vilajosana , Diego Martín , Nerea Camacho , Alvaro Cervantes of ¨Carlos I¨ series and Carlos Francino of ¨Victor Ros¨ series . Colorful and glimmer cinematography by Xavi Gimenez . Atmospheric and moving musical score by Manel Santisteban . And the advertisement including Christina Aguilera who looks amazing on the set for her music video for 'Hoy Tengo Ganas De Ti' with Alejandro Fernández . Being based on Federico Moccia bestseller book . Federico is a Best-seller writer and director , known for¨ Amore 14¨ , ¨Scusa Ma Ti Voglio Sposare¨ , ¨Tre Metri Sopra Il Cielo¨ (2004) or ¨Tres Metros Sobre el Cielo¨ (2010) and its sequel , ¨Tengo Ganas De Ti¨ (2012) . He also wrote several scripts as ¨Palla Al Centro¨ , ¨Ho Voglia Di Te¨ , ¨Classe Mista 3A¨ and ! Cannibal holocaust 2 ¡ . ¨Perdona Si Te Llamo Amor¨ . The motion picture was professionally directed by the Spanish filmmaker Fernando González Molina ("Three Steps Above Heaven") . He went on directing successes as the $13.5 million period drama "Palm Trees in the Snow" also with Mario Casas .
More
Have it translated because I'm going to write this in English!I loved the first part...but I wanted him to end up with Babi. Until now I knew that his name was Hache I thought they were calling him Axel! He's so hot!The movie shows how sometimes it is not what it seems. He thought Babi was the one, until Gin showed up. But if Gin would have told him that Babi had called that night. And if he would have looked for her when he came from Londres or at least kept communication with her, so that she could see him changing, then they would have stayed together.This is just one outcome...
More