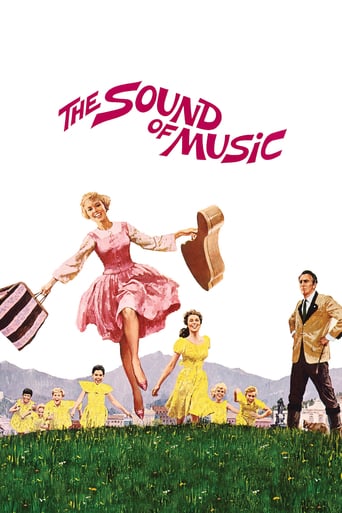 AD:This title is currently not available on Prime Video
The Sound of Music (1965)
AD:This title is currently not available on Prime Video
A tomboyish postulant at an Austrian abbey becomes a governess in the home of a widowed naval captain with seven children, and brings a new love of life and music into the home.
...
Watch Trailer
Show More
Cast
Similar titles
Reviews
...EVER! Brilliant music. Amazing scenery Score. Script. Brilliant.
More
Personally I'm not so crazy about musicals but this one I actually enjoyed. I thought that all the singing and dancing stuff is really carefully placed so it never took me out from the story, instead it did the opposite. It's about a troublemaker nun who becomes a governess for seven children and accidentally falls in love with their super rich widowed father.
More
A great musical with beautiful songs! Julie Andrews is a fantastic singer and actor, and it is fun to see her in her younger years. I don't believe the film would be as good without her, she is perfectly suited to the role. Most of the child acting is decent, which can usually really impact a film.The songs are absolutely classics and for a good reason. All further the story and fit, and they must have great song writers. Also, the settings are phenomenal with the mountain being iconic scenery now. Costumes are very nice, and reflect the mood of the scenes. However, the cinematography is basic but I think it is mainly due to the time period and equipment. Just overall an amazing classic that everyone has watched or needs to!
More
I really hate this film with it's saccharine sweet heroine and drippy kids. Christopher Plummer is beyond hateful and the whole shebang has these dreadful songs most of which Andrews sings as though presenting an elocution lesson. How it became the most watched and successful movie of its time is astonishing. Stories of numpties who have seen it 3,000,000 times at the cinema and love it more than life is really puzzling. I always wanted the Nazis to find them and incarcerate them somewhere dreadful and do terrible things to them because they were so sickeningly sweet. Julie Andrews hated the image that she became stuck with after TSOM and May Poppins but more fool her for even doing such dross.
More