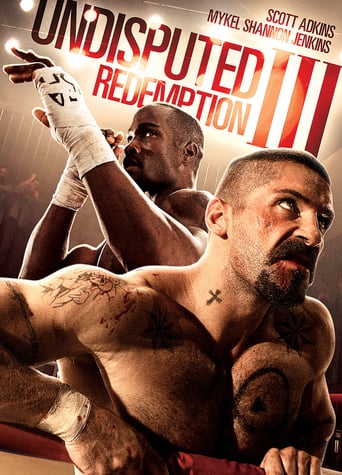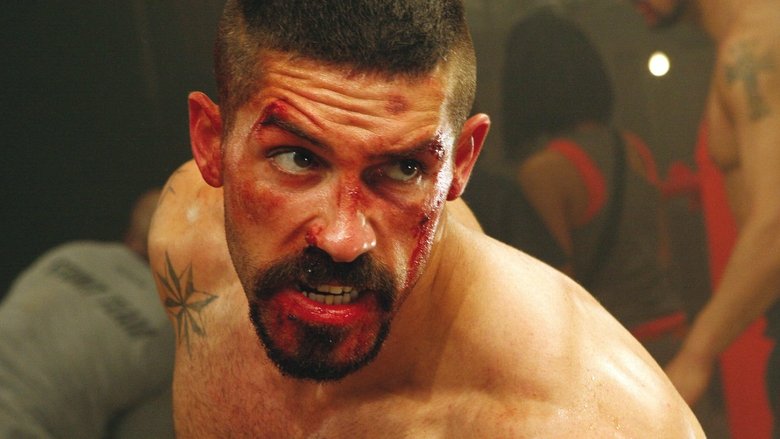 AD:This title is currently not available on Prime Video
Undisputed III: Redemption (2010)
AD:This title is currently not available on Prime Video
Russian inmate Boyka, now severely hobbled by the knee injury suffered at the end of Undisputed 2. No longer the feared prison fighter he was, he has declined so far that he is now good only for cleaning toilets. But when a new prison fight tournament begins - an international affair, matching the best fighters from prisons around the globe, enticing them with the promise of freedom for the winner - Boyka must reclaim his dignity and fight for his position in the tournament.
...
Watch Trailer
Show More
Cast
Similar titles
Reviews
I am the world's most complete fighter.This movie was a complete entertainer; I haven't seen the first two parts but this part was surely something! No doubt the MMA fighting skills of the characters were real time and no strings attached; yes I mean no strings attached.The story may be considered on the lines of "condemned", but with noteworthy differences and twists, I would say the director "Isaac Florentine" and his special effects team has done a marvelous job with the fight sequences, story line and characters in hand.I would suggest everyone should give this movie a try and I am sure everybody would like it, even if you are not into combat and sparring. This movie is a must watch for people who are into combat and self-defense
More
Undisputed 2 may have been one of the best straight to DVD sequels ever made but Undisputed 3 is the best straight to DVD Threequal yet!!! Cult favourite Yuri Boyka is back and still "the most complete fighter in the world". The reason this one is the best is because we get to see more Yuri plus the plot is better than the other films. Yuri is in the first ever inter-prison fight tournament in which the winner gets his freedom. So with this plot we get a lot more colorful characters and more great fight scenes. Overall this film is a solid B-level action film. Martial arts movie fans, this is a must watch.7/10
More
In the follow-up movie to the cringe-worthy original movie and a gut-wrenching second part we have a change of hero. Here we follow Yuri Boyka (Scott Adkins of Barakapool and "Ninja" fame), the ultimate loser of the Undisputed final bout. With his leg injured he has been relegated to being a toilet cleaner, falling down the prison hierarchy to the very bottom. Despite his obvious weakness he never gives up and decides to reenter the ring. After beating the current prison champion it turns out that his next destination will be a world-wide tournament between inmates from several continents. Amongst them talkative American Turbo (Mykel Shannon Jenkins) and Colombian bad-ass Dolor (Marko Zaror, best known from the exquisite "Mirageman" movie).Personally I'm not a big fan of such testosterone-charged tournament fight movies. Nonetheless I try to pinch a bit of everything and heard great things about the series. Admitedly it didn't turn out to be my flavour of fights, but the gritty high-octane brutality coupled with some immensely sound acting forced me to hand out a decent grade to this movie. The action and fighting is top notch, although some may flinch given every hit and crack sends shivers down the spine given its realism.Both Jenkins and Adkins do great as the leads of the movie (the latter benefiting from playing a semi-illiterate introverted tough-guy), while supporting cast (including Mark Ivanir and Roberto Costanzo) never cause any hindrance to the story (however rudimentary it may be). We end up with a Molotov cocktail made from all the right proportions. If this is what you ordered than expect the rapturous fulfilment of expectations.
More
in terms of storyline you won't be able to see a deep love or deep feelings, which is the first positive aspect. It's an action move, it's all about fighting.And i must stay I've never seen anything like that, it's a truly masterpiece, the choreography and skilled athletes really pulled it off..It's the entrance towards contemporary action films as it takes evertyhing to the next level.. action departmen was a bit snoozy for quite some time and this kind of shake-up was vital to revive this genre. It's one of these films, that's unheard of and not very known out there, therefore you kind of hesitate to watch it because you don't want to waste your time on some crap, but it's certainly not the case. Even the story itself was quite inspiring and interesting, definitely it wasn't just dry fights in the ring, obviously there was a meaning beyond that, which makes it even more interesting to watch.Scott Adkins has delivered an incredible performerance and has the potential to be next huge thing out there, it was spectacualar to witness elaborated stunts in such a way.. If you're a fun of action and you are willing to have a great time and you're looking for something, that wouldn't let you down - go for it!
More