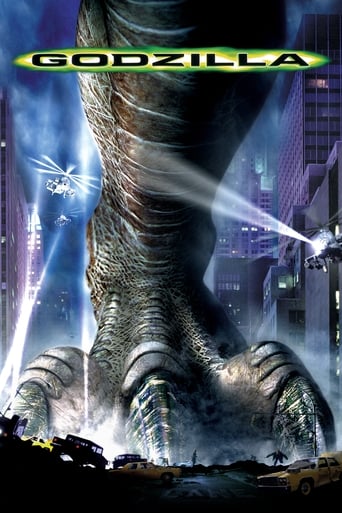 Watch Now
Subscription

Watch on Starz on Hulu

Watch on Starz

Watch on AMC+
Rent / Buy
Buy from $12.99
Rent from $3.99
Godzilla (1998)

Watch Now
Subscription

Watch on Starz on Hulu

Watch on Starz

Watch on AMC+
Rent / Buy
Buy from $12.99
Rent from $3.99
French nuclear tests irradiate an iguana into a giant monster that viciously attacks freighter ships in the Pacific Ocean. A team of experts, including Niko Tatopoulos, conclude that the oversized reptile is the culprit. Before long, the giant lizard is loose in Manhattan as the US military races to destroy the monster before it reproduces and it's spawn takes over the world.
...
Watch Trailer
Cast
Similar titles
Reviews
Best movie of this year hands down!
More
It's not great by any means, but it's a pretty good movie that didn't leave me filled with regret for investing time in it.
More
If the ambition is to provide two hours of instantly forgettable, popcorn-munching escapism, it succeeds.
More
In other words,this film is a surreal ride.
More
Godzilla is anything you wish it to be- cheesy, camp, atrocious, B movie with A movie budget. It depends on the circumstances you see it in. As a kid I loved it and it always reminds me of late 90s nostalgia. But now that one sees it they see what a flawed one this is. For starters the whole film seems to be either aping or paying tribute to the then recent Jurassic Park. The lead played by Mathew Broderick is a wimp and the "leading lady" was so bad I don't remember anything about her expect that she was a TV journalist of sorts. The effects of Godzilla romping through NYC are decent (especially for the time) but this isn't anything special nowadays. Still if you want to watch a monster movie this can be given a shot.
More
*Bad acting? Yes. *Unneeded dialogues in supposed-to-be serious scenes? Yes. *Beautiful cgi? Sub-par. Good for the time. *Horrible storyline? Yes. *Was it Godzilla? I think we all wish it wasnt...fourtonately 2014 came out and relieved us all.
More
This is a movie I've seen many times, and honestly I don't know why so many people hated it. - Just because the idiots at Toho didn't like it instead calling it "zilla" (because it doesn't apparently deserve to have the word "God" in it's name; they expect the entire world to bow to them.This Godzilla film made a hell of a lot more sense than that piece of crap released in 2014, the one everyone loved with the stupid acting and where the title character spent less than ten minutes on screen, I couldn't even watch that entire movie in one sitting, it was that boring! Compared to that tripe this movie is a pleasure to watch! So it had some bad acting in it, but it's still very watchable.The idea that Godzilla is a mutated lizard caused by French nuclear testing in the Pacific is far more believable than Godzilla being some creature from eons past "when the world was ten times more radioactive" as portrayed in that pathetic 2014 movie, the 1998 Godzilla belongs in my movie library, the 'new' Godzilla belongs at the bottom of my trash can...
More
I love this film, it's really fun and inventive! Great way to spend a couple of hours.I am pretty unhappy with the amount of hate the film gets; it's good! Too much CGI for my tastes generally but because I can remember being a little kid in the cinema watching it I've got a soft spot for it.Performances are good, casting is good, plot is good, music is good, it's all fine! Watch this film! And enjoy it!
More