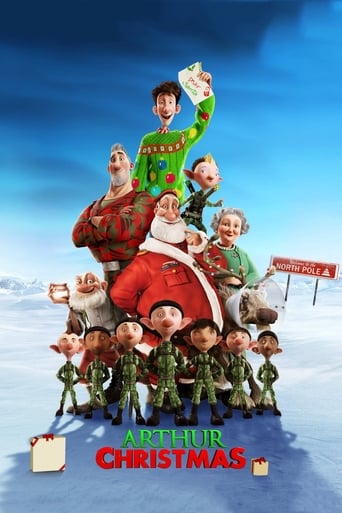 Watch Now
Subscription

Watch on Starz on Hulu

Watch on Starz
Rent / Buy
Buy from $12.99
Rent from $2.99
Arthur Christmas (2011)

Watch Now
Subscription

Watch on Starz on Hulu

Watch on Starz
Rent / Buy
Buy from $12.99
Rent from $2.99
Each Christmas, Santa and his vast army of highly trained elves produce gifts and distribute them around the world in one night. However, when one of 600 million children to receive a gift from Santa on Christmas Eve is missed, it is deemed 'acceptable' to all but one—Arthur. Arthur Claus is Santa's misfit son who executes an unauthorised rookie mission to get the last present half way around the globe before dawn on Christmas morning.
...
Watch Trailer
Cast
Similar titles
Reviews
Am i the only one who thinks........Average?
More
The story-telling is good with flashbacks.The film is both funny and heartbreaking. You smile in a scene and get a soulcrushing revelation in the next.
More
The movie's neither hopeful in contrived ways, nor hopeless in different contrived ways. Somehow it manages to be wonderful
More
I watched this film last Christmas and I was rolling my eyes cartoon style. It wasn't just the mediocre animation, the poor character development, the poor narrative, the silly jokes or some preposterous scenes. To me, the main sin of the movie is that it lacks what any movie about Xmas for children should have: true Xmas spirit and true heart. The premises of the story would have been nice enough to make a nice short, but the short is stretched unnecessarily into a soulless movie. Christmas is not adventure and gadgets, even though I love my gadgets and adventure. No Xmas spirit into this movie, no matter how many gimmicks, lions, spaceships and adventure you put into it and how many Santas you count in it, there is no soul. The story lost me after the first five minutes. Silly me, I kept watching, so I got a strong anti-Arthur feeling, and I thought that the Grinch should have stolen Arthur's Christmas. Ho ho ho.
More
Searching round on Netflix UK,I decided to take a look at their "Festive Features" section and I spotted a Christmas movie from Aardman Animation,which led to me getting ready to meet Arthur.The plot:Working in the letters department, Arthur Claus looks up in awe at his dad Malcolm,who is the latest member of the family to take the role of Santa.Needing to give every child a present,Santa and his other son Steve design space ships which allow them to travel the world in record time.Relying on machines to keep track of the presents being dropped off,the Christmas's and their elves do not notice that they have forgotten to deliver one present.Expecting to be given the job of new Santa,Steve is disappointed to find out that Malcolm plans to continue being Santa for years to come.Cleaning up the place,an elf discovers the undelivered present. Worried about how upset the child will be,Arthur decides that they must get the present to the child right away,but soon discovers that the rest of the family lack his Christmas Spirit.View on the film:Changing their animation method from clay stop-motion to CGI,co- writer/(along with Peter Baynham) director Sarah Smith and fellow director Barry Cook keep Aardman's distinctive features intact,as speedy whip-pans catch every wide-tooth grin and extra large eyes,whilst the Claus workshop gets filled with Aardman's trademark background gags which make repeat viewings of their works a Christmas cracker worth pulling. Following the Claus's (and the elves) on their deliveries,the directors make each location wonderfully distinctive,as the sleight goes from the dizzying lights of Toronto to the scorching hot jungles of Africa.Opening with a gallery featuring the history of Santa's,the writers deliciously keep the warm Christmas message intact,but hilariously show Santa trying to modernise his operations,that lead to all of the Claus's having to dust off their old ways,as they each struggle to get the hang of the Santa Sat-Nav.Walking round in a X-Mas jumper, James McAvoy gives a great performance as Arthur,thanks to McAvoy making sure to keep Arthur's passion for Christmas sincere rather than twee.Joining McAvoy in his X-Mas jumper, Hugh Laurie gives a very funny huff & puff performance as Steve,whilst Jim Broadbent is the perfect fit for the voice of the Aardman Santa.
More
As a huge fan of Aardman, I could not wait to see Arthur Christmas and I was not disappointed. Christmas is also one of my favourite holidays.It had a hilarious story about how Santa Claus works around that time of year to get all the presents to the children in time. It had excellent voice acting with James McAvoy as Arthur Claus, Hugh Laurie as Steven "Steve" Claus, Bill Nighy as Grand Santa, Jim Broadbent as Malcolm "Santa" Claus, Imelda Staunton as Margaret Claus and Ramona Marquez as Gwen Hines to name a few. It also had great animation, Aardman used computer animation instead of stop- motion clay animation, nice to see a style, lovable characters, a fantastic score by Harry Gregson-Williams, and the chemistry between Arthur and Gwen was really heartwarming.If you have not seen this movie, go ahead and watch it right now. A must watch!
More
I happened upon a trailer for Arthur Christmas when trying to find films to get into that special Christmas mood which eluded me for some reason - perhaps the lack of snow and general cheeriness. I was a bit skeptic since a lot of animation lately have been kept simple - as in unvaried, non-complex and mundane - in both story and execution but Arthur Christmas was nothing of the kind: Brilliant animation to dazzle and keep you watching, ingeniously written characters that you cannot help but love, a fantastical story with an innovative and credible depiction of how Santa works in this age of technology and how he actually manages to distribute all those gifts around the world. It is a tale about family and persistence and what it means to do the proper thing even when it's hard and you feel discouraged. And it is funny and heartwarming and made me feel gooey and fuzzy inside. A proper feel-good film. But let's be honest, it will not be for everyone. There is always someone who expects more than any film can carry and so I must tell you this: if you don't like Christmas films, animation and the British, this film will not be for you. You Scrooge.
More