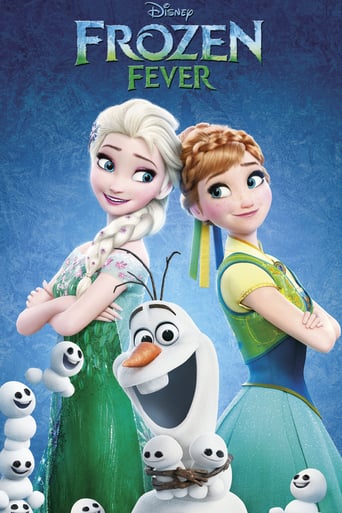 AD:This title is currently not available on Prime Video
Frozen Fever (2015)
AD:This title is currently not available on Prime Video
On Anna's birthday, Elsa and Kristoff are determined to give her the best celebration ever, but Elsa's icy powers may put more than just the party at risk.
...
Watch Trailer
Show More
Cast
Similar titles
Reviews
OK so I LOVED Frozen, that is a great movie but why does this short even exist? To make money? That's the only reason I can think of...I mean the first Frozen is about Elsa having these magical ice-powers and at one point she decides to build an ice-castle where she then lives. This means she is completely fine being around ice right? And then in this short, she gets a fever! How can one who is perfectly fine with ice get a fever? Simple answer: She doesn't! It just doesn't make any sense.Oh it's also about a birthday party for either Anna or Elsa, I totally forgot because it's completely forgettable. So all in all, watch Frozen if you haven't already and don't watch this. Just wait for Frozen 2, that should be good!
More
I just watched the newest 'Cinderella' on DVD. And a bit off-topic, it is a very nicely made version of the classic tale.The DVD extras are sparse but one of them is this nice little 7- minute short movie. The title is a reference to it being a birthday but someone is sick with a fever.It has many of the same performers and same characters as in the feature length movie 'Frozen.' In that movie Elsa, the Ice Queen, spent a lot of effort staying away from Anna. Now it is Anna's birthday and Elsa wants to do something special for her, a birthday party. But Elsa isn't feeling well, she has a fever, and in the end Anna has to take care of her.This short is done in a traditional musical style with one long song and most of the characters singing their lines at one point or the other.All in all a nicely entertaining short, especially if you like 'Frozen' the movie.
More
I really enjoyed the movie "Frozen", so I was looking forward to this short film for a while. And while I was not totally won over by it, I was not disappointed either. The story is basically Elsa preparing the perfect birthday for her sister Anna with the help of all their friends from the feature film. And also the not-so friends appear again in this film, so that you get basically all the important characters from the film, which is always nice, even if it is just for a very short moment like the sauna owner. There is a reference to the famous song from the film as well (check my title) and in general there is at least as much singing than talking in this movie, maybe almost a bit too much for my taste. These 8 minutes have some decent comedic moments and the drama about Elsa's cold is nicely chosen, but not too severe for such a short film. What I liked most about it are all the tiny snowmen coming out of Elsa's mouth. I think it's inevitable that there will be a second "Frozen" film at some point and I hope the include them there as well. And Olaf's comment about not being able to read or spell was so random and pretty great too. So yeah, it's not a must-see (as the full feature film), but a nice little addition for everybody who enjoyed the movie. Recommended.
More
Frozen Fever is the short animation special made for fans of Frozen and it kind of serves as a sequel to the movie.However it is an short film to hold over fans of Frozen.What makes the film works is that Kristen Bell, Idina Menzel, Josh Gad, and Jonathan Groff all return to reprises their respected roles as Anna, Elsa, Olaf and Kristoff. So it will bring some special meaning to the fans to get the original cast together for this short film. The plot of the film is that It's Anna's birthday and Elsa wants to make this a special day for her sister unfortunately Elsa has a cold but she is determent not to let that stop her from making Anna's Birthday special.The song "Making Today A Perfect Day" is the main song of the film and it is very catchy and original to boot. They pick a strong song for the film.Animation for this film is superb as in the first film very much attention to detail for the characters as well as the snow effects. Voice acting very interesting from the start as the cast show us why we fell in love with the characters in the first place.Plus with Jennifer Lee and Chris Buck return to direct the movie and once again deliver on the film so nice. The film is just all together fun for all ages if you love the first movie you will love this special short animation film, the film feature amazing artwork, superb voice acting, humor plus nice nods to the first film.I give Frozen Fever an 9 out of 10
More