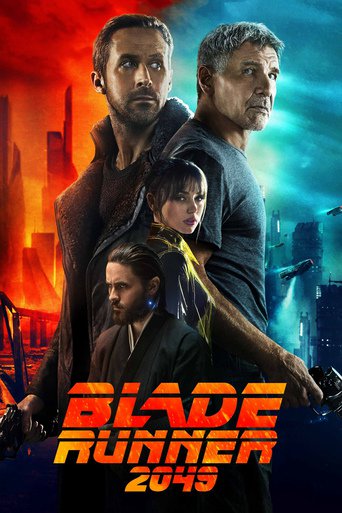 AD:This title is currently not available on Prime Video
Blade Runner 2049 (2017)
AD:This title is currently not available on Prime Video
Thirty years after the events of the first film, a new blade runner, LAPD Officer K, unearths a long-buried secret that has the potential to plunge what's left of society into chaos. K's discovery leads him on a quest to find Rick Deckard, a former LAPD blade runner who has been missing for 30 years.
...
Watch Trailer
Show More
Cast
Similar titles
Reviews
I love Blade Runner 2049! Everything fits! The pictures that this film creates are incredible! The story makes sense from beginning to end, is somehow complex, but somehow not. The new figures fit perfectly into the Universe and everyone has a purpose and a place. But the best thing about the movie is probably its message, but I do not want to spoil it;) Can definitely compete with its predecessor!
More
I've committed the eighth sin: calling a sequel better than its predecessor. But Blade Runner 2049 deserves the praise. It's a masterpiece; a fantastic experience of eye-wateringly beautiful visuals, hypnotic sounds, and a fantastic narrative. The pacing of this film is also commendable; despite being intentionally slow placed, and doing a good job at it too, I felt I could watch hours more of it. The story was a complete one; not the sort that left you waiting for a sequel to explain things away, or for a spin off novel (*cough* Star Wars *cough*). Denis Villeneuve outdoes himself, and so do the writers. Obviously, Ryan Gosling is flawless, Harrison Ford is grumpy, Jared Leto is weird, Dave Bautista is actually good (?) and so is everyone else. I implore you to watch it; it's a unique experience, and a richly satisfying one. It's also more approachable, I felt, than the original, without pandering too much. Loved it!
More
Is a long movie and for long periods of time nothing is going on. every moves slowly. Ana de Armas is gorgeous. That wake me up. I think the movie was a build up for the moment when Harrison Ford shows up.
More
As a regular IMDB user I ended up making an account just to wire this review - I just loved this movie.I went into this as a big sci-go fan but not so much a fan of the original movie, however this continues the story extremely well (some might say more in depth/better) from the original. The main thing is you need to understand this movie is long, but not drawn out or boring which is what I got from the original - this kept me interested and captivated from start to finish. There was even times where I thought I knew where the story was going and it caught me by surprise again.If you enjoy a good sci-fi flick, this is a great film, you don't necessarily need to watch the original if you don't want to - it fills the gaps quite well, however if it's a rainy day outside and you want to get the full backstory - it couldn't hurt :-)
More