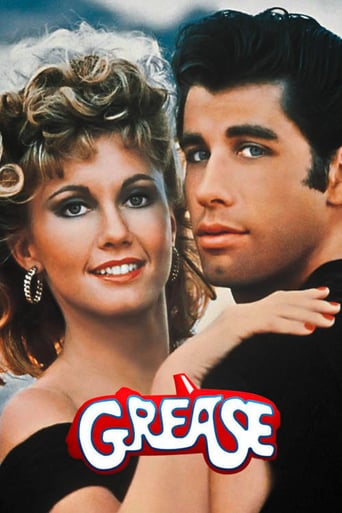 AD:This title is currently not available on Prime Video
Grease (1978)
AD:This title is currently not available on Prime Video
Australian good girl Sandy and greaser Danny fell in love over the summer. But when they unexpectedly discover they're now in the same high school, will they be able to rekindle their romance despite their eccentric friends?
...
Watch Trailer
Show More
Cast
Similar titles
Reviews
Those leather jackets are so classy & the sound is awsome
More
John Travolta and Olivia-Newton-John lead a terrific ensemble cast. Some critics called the sets "cheap" and the story "childish" but the movie-going public knew better. Severely cleaned up from the Broadway Musical Version, it boasts several songs custom-written for ONJ by her favorite tunesmith, John Farrar. Great personalities from the old 1950's include Eve Arden, Sid Caesar, Edd Byrnes, and Joan Blondel. Yeah, the Greasers and their gals were not as clean-cut in real life as they are portrayed in this film. I remember "rumbles" with knives, but in those days, nobody ever brought guns to school. A stinging parody of "American Grandstand and Dick Clark" tops off the program with "Sha-Na-Na" singing their hearts out on glorious black and white TV. The "carnival" ending is really well-done. Yes, OLJ was sewed "into her pants" when she "comes out as a Greaser" in the song "You'll the One That I Want". Pure joy after 40 years! Unsurpassed!
More
1978's Grease, in many eyes, is a classic film. It is adored by all ages, and it seemingly passes down from generation to generation with love. This is one of the first movies I remember that have a sense of nostalgia. This movie plays well with the baby boomers because it hearkens back to the 1950's, when love was swamped in innocence. This movie got the feel of the 1950's correct, I have been told. The clothing, the background music, the charm, the acting, and the overall look of the movie. The actual songs are 1970's rock'n'roll style, and they are wonderful songs. The tone of the movie is upbeat, fun, and innocent. It may be somewhat predictable, but the movie itself was made well.There are a variety of reasons why I enjoy this movie. From the interpretation of the 1950's lifestyle to the wonderful tunes to the themes of true love-all of it elevates this movie into 'classic' territory. However, I am irked by a few things though. Mainly the age of the cast. Don't get me wrong, I think the performances are wonderful, but I despise when movies cast people in their late 20's or early 30's to play teenagers. Now some films can get away with it, but not Grease. You can tell that the people in the cast are not teenagers. Check out these ages at the time of movie release. John Travolta was 24, Olivia Newton-John was 30, and Stockard Channing was 34!!! But who am I to complain. This movie gave Travolta and Newton-John the career boost they needed.As for the story, it's nothing new. The story is one that has been told to death, but it is all about how a story is told that can make or break a movie. This love story was told with a passion thanks to the high-spirited screenplay from Bronte Woodard and the energizing direction from Randall Kleiser. This musical starts off at a California beach in 1959. Complete opposite personalities have fallen in love. Greaser Danny Zuko (John Travolta) and an Australian chick Sandy Olsson (Olivia-Newton John). After a summer romance expecting not to see each other again, both of them attend Rydell High unbeknownst to each other. They do their own things at first. Danny is a leader of a gang of greasers called the T-Birds and Sandy joins the Pink Ladies, led by the charming Rizzo (Stockard Channing). When they run in to each other for the first time, Sandy realizes Danny is a different man from the one she met at the beach. But will that stop her from getting back with Danny? Well, just watch the movie! Despite my concerns on the ages of the cast, I cannot deny how effective the performances are. In particular, John Travolta and Olivia Newton-John. Travolta eventually became a major movie star, thanks to this movie. He knows how to sing and dance very well for an actor. It seems like he models his character off Elvis Presley. With the hairstyle and the black leather jacket, he seems to be Elvis-lite. He exerts fantastic chemistry with Olivia-Newton John. She also sang very well and her performance as the new girl in town is excellent. I liked the supporting cast very much. Stockard Channing did a solid job as the sex-happy leader of the Pink Ladies. Jeff Conaway as Danny's right-hand man, Kenickie. There are some veteran cast members who did a fine job particularly Eve Arden as Principal McGee and Sid Caesar as Coach Calhoun.I was most impressed with Grease. I remember seeing it as a little kid and enjoying the music. But as a young adult, it resonates with me because it reminds me of my high school days. The music is great and most of these songs will stick in your brain for a lifetime. Such numbers to keep an eye out for are "Hopelessly Devoted To You," and "You're The One That I Want." The former song actually went on to be nominated for an Oscar. This film is all about song and dance. Two of my favorite sequences include the ballroom dance scene which was being filmed for national television and it features some slick dance moves. My other favorite scene is the ending dance sequence at the school's carnival. Very fun! On the whole, this film is upbeat, sweet, and a film to remember.My Grade: A-
More
Starring John Travolta and Olivia Newton-John, this musical from the late 70s will take you right back to the 50s, when boys were boys, girls were girls and having a car actually meant something. Is it dated? Yes, but in a loving manner.Danny (Travolta) and Sandy (Newton-John) separate after a summer romance, believing that they will probably never see one another again. Then they find out that they're attending the same high school and that Danny has not been as straightforward about his personality as he probably should have been. It turns out he's a greaser and while in the presence of his friends about as misogynistic and old-fashioned as a redneck from 1800s. Yet he still loves Sandy, so what are they to do?This is a fun musical. Both the main leads are unbelievably charismatic, despite Newton-John being thirty years old - yeah, I find it hard to believe as well - and even Travolta being well over twenty. But they make up for it in chemistry, great song numbers and good old-fashioned charm. The music is also great. Greased Lightnin', Summer Nights and You're the One That I Want defined a whole generation. Sure, not all of them, like Beauty School Dropout, are all that memorable and some, like Summer Nights, contain somewhat sexist lyrics, but overall the songs are great and the whole film has this energy to it.Grease defines the word fun. It's a high energy blast that is the perfect watch for all teenagers alike. Just remember that it was made in the 70s.
More