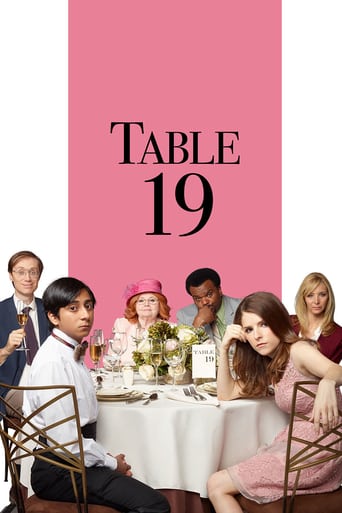 AD:This title is currently not available on Prime Video
Table 19 (2017)
AD:This title is currently not available on Prime Video
Eloise, having been relieved of maid of honor duties after being unceremoniously dumped by the best man via text, decides to attend the wedding anyway – only to find herself seated with five fellow-unwanted guests at the dreaded Table 19.
...
Watch Trailer
Show More
Cast
Similar titles
Reviews
I have become extremely picky about what I watch. Most newer movies dissapoint. This one did not. This one to me ranks way up there with Pretty Woman And many more of my favorites. Love love that we did not get to see Teddy swim to shore. Love that we were left guessing.
More
I love the way each character's problems are (literally) brought to the table. Each life is slowly unraveled and we get to know them quite well by the end. Each actor does a good job of being quirky and slightly annoying at the beginning, but by the end we love them all. Unique problems arise and play out well through the movie. This has become one of my favorites. I also love Anna Kendrick and think her personality really complimented the character well. The actors were chosen well. I recommend seeing this.
More
This is a pleasant, enjoyable movie that will appeal to everyone- especially those who are on the outskirts of life and do not quite fit in. Anna Kendrick is one of six characters who have been invited to a wedding. Each of the characters does not quite fit the mold of someone you would really enjoy hanging out with so they are seated at a table far away from the bride and groom. Kendrick is the ex-girlfriend of the bride's brother and she still pines for him. The others are a group of quirky characters. Those at Table 19 slowly begin to learn about each other and work together to help Kendrick and each other through a series of mishaps. This leads to a number of scenes that will have you chuckling throughout the movie.
More
Plot was a little slow to start and a couple annoying parts. The dialogue was hard to hear over the music at times. I noticed several abrupt cuts that could have used more transition switching between scenes and sets back and forth. I had low expectations so I was happily surprised to be laughing out loud.
More