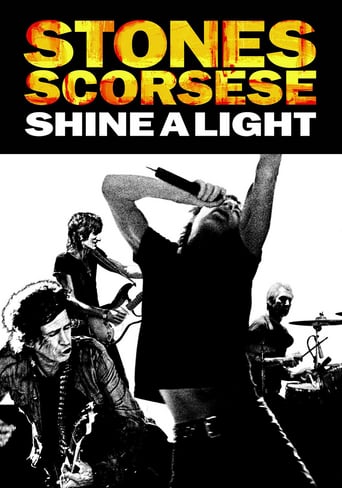 AD:This title is currently not available on Prime Video
Shine a Light (2008)
AD:This title is currently not available on Prime Video
Martin Scorsese and the Rolling Stones unite in "Shine A Light," a look at The Rolling Stones." Scorsese filmed the Stones over a two-day period at the intimate Beacon Theater in New York City in fall 2006. Cinematographers capture the raw energy of the legendary band.
...
Watch Trailer
Show More
Cast
Similar titles
Reviews
It's just plain dumb to take the sound from the PA. The sound from the PA is optimized for the theater during the show, not for the footage from the show. This results in very loud guitars, some vocals and barely anything else (no audience sounds either, until the end of the song - very artificial). All this, unfortunately, results in the impression that the Stones sound terrible. Which is not true and a shame. I can't believe they let this film go out the way it is.I did see the film on the DVD, not in the theater. I don't know if this would make any difference, but I really don't thinks so.As for the "plot" and the remarks about the commerciality of the film - I expected this, seeing the trailers, so no nasty surprises there.
More
So we're going with something a little different this week. In what is the first non-fiction film I've ever reviewed, Martin Scorsese gets behind the camera to present a part-concert, part- documentary film chronicling two night shows by iconic band The Rolling Stones at the historic Beacon Theatre in New York City. Although the original plan was to document highlights of The Stones' A Bigger Bang world tour, Scorsese opted for a more intimate and familiar setting, no doubt giving him a lot more options as far as acoustics and camera stations go.Formed a whole six years before Marty even released his first feature film, The Stones have been amongst the most enduring rock and roll bands in history, and are a perfect match for the Taxi Driver director. Each has aged like a fine wine, displaying invaluable experience in their relative industries with every project they churn out, and never lacking in professionalism or passion for what they do. Approaching seventy years old, front man Mick Jagger has not lost a step. His energetic performance alone keeps you from taking your eyes off the screen for two hours, and he is complemented by the rhythmic brotherhood that is Ronnie Wood and the seemingly immortal Keith Richards. Curiously, drummer Charlie Watts hardly appears on-screen during Shine A Light, which is odd considering his prominence and input in other Stones documentaries, most notably Gimme Shelter.Scorsese's role in this film would best be described as 'overseer', rather than 'director'. Granted, there is only so much one can do with the camera when filming a non-fiction concert as opposed to a narrative, but one does get the impression that Marty took a back seat on this one and allowed The Stones to do their job without the concern of multiple cameras minimising the stage space during the show.That being said, Shine A Light does contain moments of cinematic class, particularly during more energetic songs such as Sympathy For The Devil and Live With Me (a surprisingly excellent duet with Christina Aguilera). The editing of archival footage between songs is scarce, with the live performance itself taking obvious priority. However, it is at a premium during Keith Richards' rendition of You Got The Silver, seamlessly intercutting the song with characteristic responses by the man during interviews conducted in the band's early days.A minor issue of concern relates to the 'fans' in the front row. In what has become a rumour never actually proved, it is clear that the rim of the stage has been lined with young, attractive men and women (some ostensibly decked out in Stones merchandise) who are unlikely to be genuine fans, but rather extras who have been employed to make the final transfer to film look sexier. In a fictional piece, this would be a non-issue, but it is rather distracting in a live concert environment. I'll let you make up your own mind on that one.Is it the defining Stones film? Even with Scorsese at the helm, it dosen't quite match up to Gimme Shelter. But with two such juxtaposed films (Gimme Shelter details an immense free concert the Stones hosted during which four babies were born and four people were killed), Shine A Light dosen't have much to stand on. As an individual piece, however, it is very engaging, more so for die-hard fans of the band, the director, or both.*There's nothing I love more than a bit of feedback, good or bad. So drop me a line on [email protected] and let me know what you thought of my review.*
More
A good concert will generate heat like a fire. And sometimes you feel you'll just melt away. So it was for me watching this brilliant film. Mick Jagger and the boys have traveled straight into history. It's as if they'd got hold of something that's eluded us all and, for me at least, they've left no doubt which band is the greatest, Beatles or Stones.I originally didn't want to sit through a long concert. But I was wrong. There's nothing dull or repetitious in this movie and, in fact, there are some surprises including a gem of a Keith Richard rendition and a revealing duet between Mick and Jack White. The film is like a compilation of a thousand lucky catches. Mick's energy, musicality and playfulness come through loud and clear, and I began to wonder just how influential this band's been over the years.As a guy, I know I always wanted to take notice and listen whenever they came up on somebody's playlist. The Beatles always seemed to be a more acceptable choice, even when it was a Stones' song that kept going through my mind. But after all these years, I've concluded that it was the Stones who had the stronger grasp on my generation's psyche. In some ways they seem more honest than the Beatles. Certainly they've had more fun over the years. I just heard someone list iconic British things to include Big Ben and the Beatles. I winced because I realized, if I were British, it would have been the Stones I would have mentioned. There's something miraculous about them that I can't help admiring.
More
Scorcese, obviously a huge Stones fan, sets out to make a 'documentary' with this film "Shine A Light" but as you probably have read by now, it is no documentary. It's a concert film and nothing more. We are treated to some pre-show clips and setup, some roadies unloading gear, and a couple of extremely short interview clips. When the concert gets going, The Stones are in true form...again. The songs sound tired and rehearsed. It's all so obviously staged, every single second of it. The feeling is all gone.For those of us who have seen films like "Rock n' Roll Circus," "Let's Spend the Night Together" and even the fairly recent "Bridges to Babylon" concert video, it's merely more of the same. The budget for the production was clearly huge, as we can see every wrinkle in Mick's face the whole time. The cinematography is flashy-dashy MTV-style and we never have the camera on anyone for more than a few seconds at a time.I'd be so much more impressed if The Rolling Stones would stop jumping around on stage like children, grab a few acoustic guitars and give us an intimate 'Unplugged'-style concert. Plain and simple they look ridiculous out there. Keith is haggard as always, still smoking and picking away. Ronnie is really showing the years. Charlie still rocks at drums but now he really looks like my grandfather. And Mick, well...he just makes me uncomfortable, shaking his hips at his age. I loved the appearances, especially Buddy Guy and Jack White. There should have been more of them.If you wanna see Martin Scorcese, see "Mean Streets." If you wanna see The Stones, see "Let's Spend the Night Together." All in all not really a great example of Martin Scorcese or of The Rolling Stones, two artists who I really like, so I can't recommend this one.5 out of 10, kids.
More