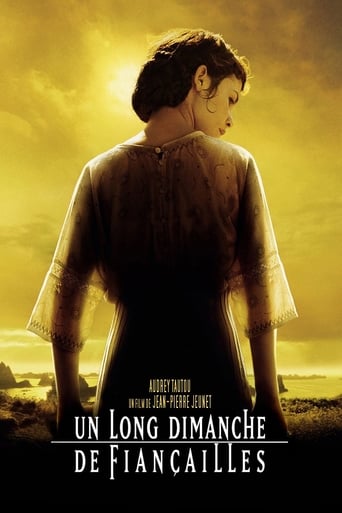 AD:This title is currently not available on Prime Video
A Very Long Engagement (2004)
AD:This title is currently not available on Prime Video
In 1919, Mathilde was 19 years old. Two years earlier, her fiancé Manech left for the front at the Somme. Like millions of others he was "killed on the field of battle." It's written in black and white on the official notice. But Mathilde refuses to believe it. If Manech had died, she would know. She hangs on to her intuition as tightly as she would onto the last thread of hope linking her to her lover. A former sergeant tells her in vain that Manech died in the no man's land of a trench named Bingo Crepescule, in the company of four other men condemned to die for self-inflicted wounds. Her path ahead is full of obstacles but Mathilde is not frightened. Anything is possible to someone who is willing to challenge fate...
...
Watch Trailer
Show More
Cast
Similar titles
Reviews
A Very Long Engagement (2004): Dir: Jean Pierre Jeunet / Cast: Audrey Tautou, Gaspard Ulliel, Dominique Pinon, Chantal Neuwirth, Marion Cotillard: Powerful film about the timeless connection between two individuals as well as the venture for facts. Set during the first World War five soldiers are sent into no-man's land after inflicting themselves with gunshot wounds. One of them is a young nineteen year old whose fiancée searches drastically for answers to his fate. She cannot accept that he is dead because she claims that she cannot feel it. Brilliantly directed by Jean Pierre Jeunet who previously made a morbid piece of trash called Alien: Resurrection, which nearly killed that franchise. Then he wisely followed that up with the wonderful Amelie, which also starred Audrey Tautou. She proves valuable as the leg impaired fiancée with a strong will. Gaspard Ulliel plays her fiancée who suffers from shell shock. Dominique Pinon and Chantal Neuwirth play her supportive aunt and uncle whom she lives with. Marion Cotillard is sexy using her dominance to tie an enemy to a bed and then shooting the mirror overhead for a nasty end. Visually tense war footage places viewers within the chaos. It gives off the corrupt and fatal remains of war and its impact while others desire to avoid the fatalities altogether and seek the solitude that is a distant memory. Score: 10 / 10
More
This film is directed by Jean-Pierre Jeunet and starring Audrey Tautou ( famous for the movie Amilie ), This french film Got 7.8/10 ( IMDb rating ) and 85% vote ( Rotten Tomato ). It is based on Drama | Mystery | Romance , & won more than 30 awards on that time. Plot - Five French soldiers are convicted of self-mutilation in order to escape military service during World War I. They are condemned to face near certain death in the no man's land between the French and German trench lines. It appears that all of them were killed in a subsequent battle, but Mathilde, the fiancée of one of the soldiers, refuses to give up hope and begins to uncover clues as to what actually took place on the battlefield. She is all the while driven by the constant reminder of what her fiancé had carved into one of the bells of the church near their home, MMM for Manech Aime Mathilde (Manech Loves Mathilde; a pun on the French word aime, which is pronounced like the letter "M". In the English-language version, this is changed to "Manech's Marrying Mathilde"). Along the way, she discovers the brutally corrupt system used by the French government to deal with those who tried to escape the front. She also discovers the stories of the other men who were sentenced to the no man's land as a punishment. She, with the help of a private investigator, attempts to find out what happened to her fiancé. The story is told both from the point of view of the fiancée in Paris and the French countryside—mostly Brittany—of the 1920s, and through flashbacks to the battlefield.
More
This is by far the best French movie I have seen so far. Jean-Pierre Jeunet has delivered pure magic for the audience here. His nifty direction has done it again and of course what a dandy leading lady as an actress he has. Audrey Tautou is a very talented star indeed. She completely captures the character of Mathilde and grooves herself into it. She literally carries the entire movie on her own. It really shows her total devotion to the role. A superb blend of romance and a teasing mystery in the plot wraps up the magical show. Even with English subs, you won't have a chance of missing out on almost anything if you watch Tautou the whole time during the movie. She will make you understand the movie both in acting as well as in her words. Her performance in Amelie was exquisite also. Jodie Foster shines in her little cameo as always. You shouldn't miss out on this one. This movie has surpassed one of my favorites Tell No One of 2006.
More
Jean-Pierre Jeunet's epic tale of love amidst the backdrop of The Great War is terribly sad, empty, loving and heartfelt all simultaneously. It captures exquisitely what it might have been like to be among the unspeakable carnage and destruction which characterized the trench warfare of the war as well as tells a thoroughly engaging and brightly acted love story about a determined young woman searching and hoping that her fiancée remains alive after the war.Audrey Tautou, perhaps the closest actress alive who resembles Audrey Hepburn in both looks and personality, plays Mathilde, a polio-stricken orphan living in the French countryside with her aunt and uncle holding on to the belief that her lover, thin and fresh-faced Manech, will return to her from the war. Jeunet cuts swiftly between her tale which she narrates and that of another woman in search of her lost love. This second female is played by Marion Cotillard in a brilliant performance filled with both intense passion and longing sadness. In many ways, her character sits at the crossroads which this movie places itself at. The intention of looking to intensely at the destruction of the Great War and the long-term effects it had on society is summarized in her actions, which are grotesque and yet strangely understandable.Tautou carries the film mostly but Jeunet's direction is impeccable. The cinematography is gorgeous in its widescreen landscapes depicting both the heavenly countryside and the hellish warfield as accurately as possible. The narrative structure is free-flowing and engaging, leaving us to pick up the pieces along with Tautou as she searches. Anyone interested in early twentieth century history should see this film for its accurate and bold look at how one war changed the course of the humanity's future while everyone else should see it for its visual strength, bold narrative, breathtaking acting and themes as universal as the events it depicts. This is truly a modern classic.
More