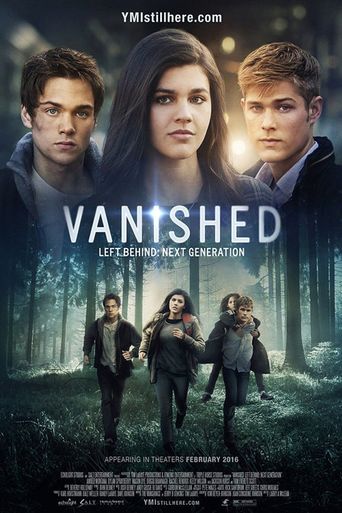 AD:This title is currently not available on Prime Video
Left Behind: Vanished: Next Generation (2016)
AD:This title is currently not available on Prime Video
If everyone suddenly vanished and you were left wondering "why am I still here?" what would you do? Where would you go? What would you believe?
...
Watch Trailer
Show More
Cast
Similar titles
Reviews
LOved this movie as it is a continuation of the Left Behind Series by Tim Lahaye, and was made by his son....Movie does a good job of showing what the world will be like when "the believers" are taken and all the rest are left behind to try and understand God...and what is is to be a believer and face an insecure future. Great for ages teen to 20 somethings as that is age group movie is focused on relating to...as the original Left Behind movies are now quite old...This new fresh approach is a great one for your kids, grand children, and I loved it as well! Good for understanding what is happening in our world today and what it means to be "Left Behind" and why that is important!
More
One of the most boring movies I have watched. The story, the plot and the characters, nothing is special about it. Maybe the first few minutes where you see cars crashing suddenly and people disappearing, you can get excited, but after that it is not up to the expectations. The movie has some glitches and could have been written better. Finally, the whole idea of the movie doesn't really make sense.
More
I'm not quite sure why this version was made in the first place, there's nothing new no novel "revelations" 4400 and TAKEN are light years ahead in terms of production values, writing and acting (same basic story without pretending there's any truth in it) If you're looking for actual miracles this film makes Left Behind 2000 almost watchable in comparison. I wouldn't want to write off the young actors on a single viewing as the script is truly terrible and I doubt Streep, Oldman or DiNero could have rung anything out of it. Maybe they can put this behind them dust themselves down and start again. I understand that I'm not the target audience for this film and it is in fact thinly veiled propaganda, But that's no reason to make a bad film
More
This is a very nice reboot of the Left Behind story. The young actors and actresses do a wonderful job that will appeal especially to teenagers and young adults, but is equally enjoyable for audiences of all ages. This is only the beginning of the Left Behind story, and will need several sequels to finish the entire story line. The story develops into a intriguing love triangle reminiscent of the Twilight series that will appeal to young adults, and in similar fashion, is left unresolved by the end of the movie. Tom Everett Scott does a spectacular job portraying the crazy evil person and leaves you with a creepy scary feeling every time he appears. His scenes add a horror thriller thread to the plot, unusual and unique for a Christian themed movie, and will appeal to horror movie fans. It was surprising and interesting to see Tim LaHaye's grandson Randy LaHaye playing the role of the anti-Christ. The film is dedicated to Tim LaHaye and his epic legacy. An very enjoyable movie even for non-Christians.
More