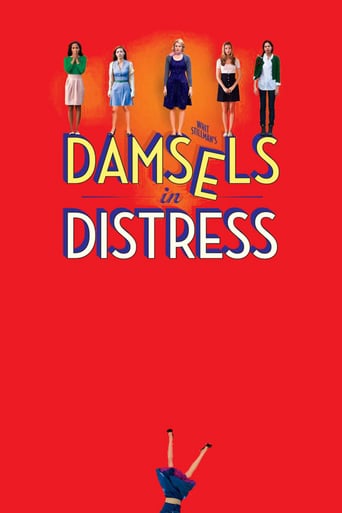 AD:This title is currently not available on Prime Video
Damsels in Distress (2012)
AD:This title is currently not available on Prime Video
A trio of beautiful girls set out to revolutionize life at a grungy American university: the dynamic leader Violet Wister, principled Rose and sexy Heather. They welcome transfer student Lily into their group which seeks to help severely depressed students with a program of good hygiene and musical dance numbers.
...
Watch Trailer
Show More
Cast
Similar titles
Reviews
A remake of Clueless (1995) à la Whit Stillman but set in college rather than High School. No wonder that the movie after this one finds Stillman taking on a direct version of Jane Austen in Love & Friendship (2016) rather than a modern remake of Austen's Emma via Clueless. In this version of Emma we find the Cher role of Violet filled by Greta Gerwig in a similar almost panic mode at times, either over boys or fear of not being perfectly "good" enough. The Dionne role is filled by lookalike Megalyn Echikunwoke, who as in Clueless plays the more cynical and wiser sidekick to Violet. The Tai role who joins Violet's gaggle of gals whom like Cher is intent on educating her to their wise ways, is played by the more down to earth (like Tai) Analeigh Tipton who in no short order (as Brittany Murphy as Tai did in Clueless) causes boy problems for Violet as they become frenemies to some degree. The Paul Rudd character in Clueless is played by Adam Brody, and so on. An inside joke between the two movies is how both Greta and Adam Brody's characters are both exposed as using fake names for themselves. How does this stack up to Clueless? While Clueless is of course much better known as a classic modern comedy which made stars of a few of the actors, it is also more romantic than Damsels which is less focused on the romance of the lead characters. Damsels is of course first and foremost a Whit Stillman movie, which is like saying a Woody Allen movie since both have such unique comedic styles and voices. If you are unfamiliar with his oeuvre, well it is not really something you can understand through a description although my best attempt would be: imagine a Woody Allen movie made by a preppie WASP. Is it a good movie? I've seen some people disparage the film while calling themselves fans of Stillman's earlier work. I don't understand why they don't enjoy this one as well. It may be a slighter work in one sense, or maybe just less of a story or less convoluted, but it is also I think, funnier. It is I guess in that way like Stardust Memories, which to me is immensely funny, but not as well liked by many of Woody Allen's fans.
More
This is my favourite Greta Gerwig movie. The humour is wonderfully dark and dry and the story is a unique mix of college frat movie meets musical fantasy meets Clueless meets Heathers. It's hard to describe this film as it doesn't seem to fit any particular genre. But you will love Greta and her friends and you will delight in their quests.
More
Greta Gerwig's unique style is perfect for her role as Heather in this excellent little flick. She sets a moralistic tone and clearly intends to reduce the rate of suicides in her college, which she says are all caused by boys. Boys also stink, and later she adopts a cheap soap which helped her to deal with losing Frank's (incoherent) love. Sadly, none of the boys care. As we learn about Heathers misconceived love for Frank (who is an idiot), we learn that she changed her identity as a child, when she was called Emily Tweeter. She wrestles with suicide, and is saved by the savour of her motel's free soap. The dialogue throughout is excellent. I did not stop laughing. The ending is even more ridiculous as the whole cast does a "Freak" Astaire musical dance.
More
I believe this movie successfully achieves it's goal of satirizing the young college-age intellectual (or asinine, as the case may be) mindset. The main characters ceaselessly spout all manner of opinions, generally in the guise of bettering the world and others, but their presentation is nothing short of self-congratulatory. Like many young adults, they are convinced their thoughts and actions are worthwhile, if not ground-breaking (international dance craze, anyone?).This movie is definitely not for everyone. You have to be willing to be carried along by it, and I expect many people give up on it due to the absurdity of the characters. What this movies does have to offer is a palpable affection for the human condition and some really excellent performances, particularly by Greta Gerwig in her lead role as Violet.If you like this movie, check out "Year of the Dog," which is similarly non-mainstream and somewhat edgier/better.
More