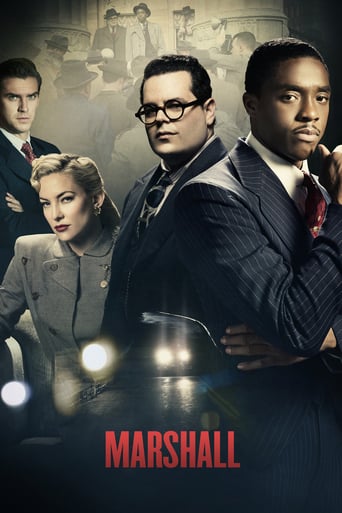 AD:This title is currently not available on Prime Video
Marshall (2017)
October. 13,2017
|
7.2
|
Drama
AD:This title is currently not available on Prime Video
Thurgood Marshall, the first African-American Supreme Court Justice, battles through one of his career-defining cases.
...
Watch Trailer
Show More
Cast
Similar titles
Reviews
I really feel like I should give this a 10 instead of a 9. I personally can't think of anything wrong with it, except I rarely give 10s, and this is not Citizen Kane nor the Godfather. However, this a true story (okay, I didn't Google it to see how accurate it is), and an inspirational one. I'm not a reviewer who needs to recap the plot, the action, the performances, though each actor was great... well, the prosecution were maybe a little cliche and James Cromwell was kind of a dick, but ... you know ... in those days, I can't say the real people weren't. And probably Mr. Marshall was played a little more lofty and infallible than he was in real life. Or maybe not. What a hero. So I'll just say that if you're an American (or anyone) with a soul and a conscience, you'll probably really enjoy this film. I did.
More
Before he played the lead in Marvel Studios' superhero sage "Black Panther," actor Chadwick Boseman played a genuine African-American hero in "Boomerang" director Reginald Hudlin's "Marshall," a sterling biographical courtroom yarn about civil rights attorney Thurgood Marshall. As it turns out, this is the same individual who argued 32 cases before the Supreme Court and then later donned the robes as the first African-American to sit on the highest federal court of the United States. It doesn't hurt matters that seasoned civil rights advocate Michael Koskoff and his son Jacob penned the screenplay. Interestingly, the elder Koskoff still serves as an attorney in Connecticut, where the trial took place in 1941, so he would know something about the hurdles that Marshall had to negotiate. At this point in his life, Marshall worked as the sole legal counsel for the NAACP, and his NAACP superior Walter White (Roger Guenveur Smith of "Eve's Bayou") dispatches him to all parts of the country to defend poor African-Americans who cannot afford an attorney. "Marshall" depicts the title character as a sharp, savvy, sartorially elegant attorney who refused to be intimidated by anybody. Boseman has a field day incarnating this historical personage. Neither Hudlin nor the Koskoffs reveal a great deal about Thurgood Marshall beyond his dedication to the rights of African-Americans in a legal system skewered against them. Indeed, we do learn about the problems that Marshall and his wife Vivien "Buster" Burey (Keesha Sharp of "Malibu's Most Wanted") encountered in their repeated but futile efforts to get pregnant. Eventually, she does have a baby. Nevertheless, Hudlin and the Koskoffs don't let Marshall's own life history interfere with the trial at hand. Mind you, "Marshall" clocks in two minutes short of two hours, but Hudlin doesn't malinger. The trial in question takes place in Bridgeport, Connecticut. The authorities have arrested a middle-aged, African-American chauffeur, Joseph Spell (Sterling K. Brown of "Brown Sugar"), for allegedly raping a Greenwich socialite, Mrs. Eleanor Strubing (Kate Hudson of "Deepwater Horizon"), and then throwing her into a reservoir late one evening. According to Koskoff, when the press broke the story, one newspaper touted it as "the sex trial of the century." When Marshall visits Spell in his jail cell, the attorney explains that the NAACP represents only innocent blacks. Spell assures Marshall that he did not rape Strubing. Furthermore, he has an alibi for his whereabouts when the crime occurred, and the witness in question turns out to be a white policeman who is prepared to testify. As the case unfolds, Marshall realizes that he lacks the appropriate credentials to practice law in Connecticut, so he finds a gullible but willing Jewish insurance attorney, Sam Friedman (Josh Gad of "Pixels"), to help him represent Spell. Friedman constantly has second thoughts about the trial and the dire publicity that may irreparably damage his budding civil practice. Nevertheless, he agrees to serve as Spell's mouthpiece. Meantime, the abrasive Judge Foster (James Cromwell of "L.A. Confidential") refuses to let Marshall utter a syllable during the trial and threatens to hold him in contempt if he does. Throughout the trial, Marshall must coach Friedman because the latter hasn't argued a criminal case. If these two strikes against our sympathetic, but snappy hero aren't enough, Marshall discovers about half-way through the case that Spell has been lying to them. Indeed, Spell didn't rape Strubing! Instead, he had intimate consensual relations with her, because her abusive, bad-tempered husband, John Strubing (Jeremy Bobb of "Boy Wonder"), often left her alone at night. Naturally, Friedman struggles to improvise, but he falls into too many traps laid by prosecuting attorney Loren Willis (Dan Stevens of "The Guest"), who is supremely confident that he will win a conviction. Of course, the good citizens of Bridgeport aren't happy with both Marshall and Friedman, and they go after them with fists. Friedman suffers the worst, getting beaten to his knees, and walking away with minor scars on his face. Marshall grins at him and points out that the local press lumped him with Marshall as a crusading NAACP lawyer."Marshall" qualifies as a well-made but routine courtroom drama bolstered by terrific performances and historical accuracy.
More
Marshall is a great movie that delivers on an old-fashioned courtroom drama. Great story with really good acting from the leads. Great cast overall. So far I have loved every role I have seen Chadwick Boseman play, he is a great actor and has this sort of swagger when acting. Sterling K Brown is great and one of the greatest actors in recent years. It was different but enjoyable seeing Josh Gad in a drama. I wish they would make more of these movies that follow Thurgood Marshall's journey. The only negative thing is that it felt a bit long.
More
I watched all of the leading movies made in 2017 and this was by far the best. Marshall did a lot of great work in his life, besides this one early trial. Sequel, please!
More