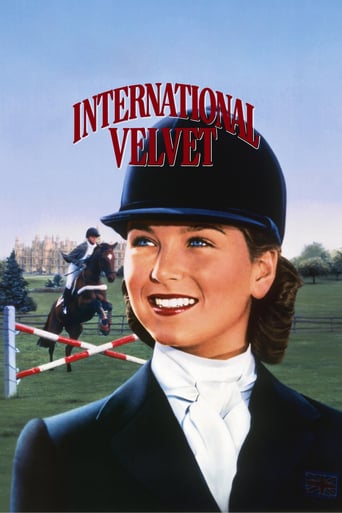 AD:This title is currently not available on Prime Video
International Velvet (1978)
AD:This title is currently not available on Prime Video
A charming sequel to the hit National Velvet follows our young heroine and her trusty steed overseas.
...
Watch Trailer
Show More
Cast
Similar titles
Reviews
I love Olympics. Have been watching them since 1972, not a good yr I know, but still I love them. Anyway I was 16 when my dad allow me to go see this movie. Am now 45 and I can not understand why MGM has not allow this movie to go on DVD. I have had 2 VHS and am about to loose my 2nd one because of using it once to many times. Its a Beautiful movie, is about an orphan who is very upset that she most move to England to stay with an aunt that has no re-collection of. Sarah is trying to fit in. Her aunt Velvet Brown, along with her live in lover, they both little by little gives her the trust she needs so they can reach each other. But is not all love in this movie. Sarah must find her path in life and time has not proved her stay is the best way to go. Yet, her aunt gives her the most precious gift Sarah could ever have gotten. Her name...Arizona Pie. Born from The Pie. The original from the movie National Velvet.Sarah manage to get her self in to the Olympics with the help of a arrogant manager played by Anthony Hopkin. They manage to win a spot in the Olympics and the hope for a second Gold Medal grows. Yes because in the first part, National Velvet, even though Velvet Brown did won the National Velvet, she never got to keep her price because she was to young to race.
More
This flop never stood a chance of succeeding without Elizabeth Taylor's involvement, and if Liz ever saw this script she probably read 10 pages and winged it out the window with a noxious chuckle. What is meant to be a continuation of National Velvet, one of the best movies of the 1940's, is really a typical piece of slapdash 70's cinema. Any ties this story has to the original National Velvet, you feel, were contrived in re-writes to try and cash in in on some kind of marquee recognition. A film about equestrian riding starring Tatum O'Neal circa 1978 was only going to appeal to horse lovers and 12 year old girls.The story is hardly even or focused. The running time of 127 minutes could have been trimmed by at least a half hour to get rid of a pointless would-be romantic subplot, a potential gang rape, and about 15 minutes of endless riding shots (supposedly set at the Olympics of 1980, but the producers use footage from the 1974 opening ceremonies in Munich).Nanette Newman is adequate as Velvet Brown but her involvement in the story offers little more than comforting moral support for the first half of the film. She and beau Christopher Plummer are pretty much left behind when trainer Anthony Hopkins comes on the scene. Hopkins does a decent job with his role but still doesn't manage to breathe into the production more than a flicker of life. O'Neal is utterly cold and unsympathetic as the plucky teenage heroine. And like the pseudo-named author he creates in the film, Plummer phones his over-cheery performance in from long distance to collect a pay check. The only thing this film has really going for it other than Hopkins is the scenery.
More
I have read a comment from another person who comments upon the lack of ethnic inclusion. This film is based in the very early years when ethnic minorities were not even considered, therefore I really don't think ethnic status is that relevant. It also may be seen as dull by todays standards but it is a classic which cannot be repeated no matter who takes the lead role. Yes it is a film where everyone is perfect and by some peoples standards a little cheesy but my advice would be: if you don't like it don't watch it. For families where horses are a part of life then this film makes a change from the violence etc on the TV now. The thing which I find can have the most effect is that the moral of the story is that you shouldn't give up when the odds are stacked against you - a prime example of life which most children should learn.
More
This is a good, enjoyable and fairly accurate depiction of the eventing world, with plenty of good riding action (shot with real event riders, not stunt actors) - a perfect movie for riding fans. Yes, it is set in a world of fairly wealthy people with posh accents, but that is the context of the film. You don't find many ethnic minority people from housing estates, with cockney accents, competing in top level eventing (even now).Fans of the book National Velvet will spot lots of inconsistencies (The Pie isn't piebald and the dates are wrong). If viewed as a completely separate film in it's own right, though, then the interactions between the heroine and her 'adoptive' parents are very genuine. Even so, the plot is incidental to the riding and so some parts are a bit weak, but that won't bother any horse fans. And to the various reviewers who commented on the heroine being played by an American actor - they obviously haven't actually seen the film because the heroine is American.
More