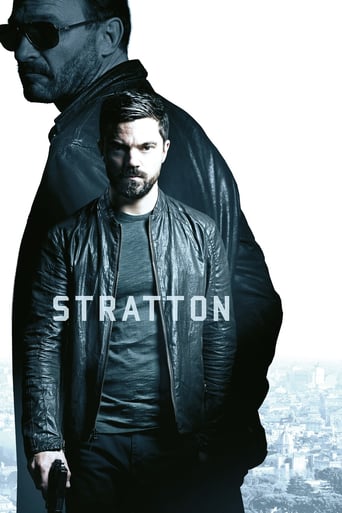 AD:This title is currently not available on Prime Video
Stratton (2017)
AD:This title is currently not available on Prime Video
A British Special Boat Service commando tracks down an international terrorist cell.
...
Watch Trailer
Show More
Cast
Similar titles
Reviews
This is a pitiful film trying desperately to be a Bond film, with Dominic Cooper supposedly using this film to throw his name into the hat for the next lead.Awkward silences, cheesy dialogue and a plot twist that may be less obvious if the "mole" weren't Tom Felton aka Draco Malfoy.
More
Worth a watch. However, experting viewers to believe a London bus could out accelerate a Range Rover was a too far fetched.
More
I actually rented this. There goes £4.50 Awful acting, poorly shot. The bus chase is on a test track ffs
More
The new action thriller film Stratton based on the international best selling books by Duncan Falconer starring Dominic Cooper, Austin Stowell, Gemma Chan, Thomas Krestchmann, Tyler Hoechlin, Tom Felton, Connie Nielsen, Derek Jacobi.In Stratton following a mission in Iran in the Middle East which goes spectacularly wrong, Special Boat Service agent John Stratton (English actor Dominic Cooper - Captain America: First Avenger, Dead Man Down) is summoned by MI6 for another deadly mission. Having been presumed dead, former Soviet operative Grigory Barovsky (German actor Thomas Kretschmann - Avengers: Age Of Ultron, Hit-man: Agent 47) has gone rogue and plans to use deadly chemical weapons stolen from his former paymasters to take revenge. In a nailbiting race against time, Stratton and his team are dispatched to track down Barovsky before he unleashes terror on London, England.Amongst the other actors / actresses in Stratton includes Danish actress Connie Nielsen (Gladiator, 3 Days To Kill) as Sumner, American actor Tyler Hoechlin (TV Series Supergirl where he plays The Man Of Steel Superman the cousin of Supergirl, Road To Perdition) as Marty John Stratton's friend and partner in crime, English actor Tom Felton (Harry Potter films, TV Series The Flash) as Cummings, English actress Gemma Chan (Jack Ryan: Shadow Recruit, Fantastic Beasts And Where To Find Them) as Aggy, English actor Derek Jacobi (Gladiator, The King's Speech) as Ross, American actor Austin Stowell (Bridge Of Spies, Whiplash) as Hank, Israeli actor Igal Naor (Green Zone, Munich) as Tariq Alawi, Jake Fairbrother (Skyfall, City Of Tiny Lights) as Spinks, Ukrainian actor Olegar Fedoro (The Wedding Video, American Cousins) as Sergei Orlov, Italian actor Nico Toffoli (The Hidden Side Of The Things) as Nico, Ilan Goodman (The Imitation Game, Echelon Conspiracy) as Miller and Lizzie Winkler as Alice.Filming locations in Stratton includes cities, countries, places like Iran, Middle East, London the capital of England, Rome the capital of Italy, Europe, Ukraine, Europe.Overall Stratton is a good action thriller film filled with action, shooting, violence, suspense, explosions, things getting blown up, wrecked, destroyed, chases on foot and in vehicles like cars and speed boats, MI6 people, sadness, family, friendship, loyalty, togetherness, team work, arguments, falling outs, some close calls, on the edge of your seat stuff, crashes, snipers, thrills and spills, betrayal, covert operations, mind games and many other things throughout the film.So I will give Stratton an overall rating of 3 out of 5 stars and Stratton is worth seeing if you like action thriller films like the James Bond films, the Mission: Impossible films, Eraser, Survivor, The Rock, Con Air, Face/Off, Stolen, Welcome To The Punch, The Last Stand, Escape Plan, Sabotage, The Bourne films, John Wick films, Hit-man films, Transporter films, Crank films, Parker, Safe, Rambo films, Taken films, The Guest, The Equalizer, Ronin amongst others.So if you get the chance to see Stratton in the cinema then you should go and see it sooner than later.
More