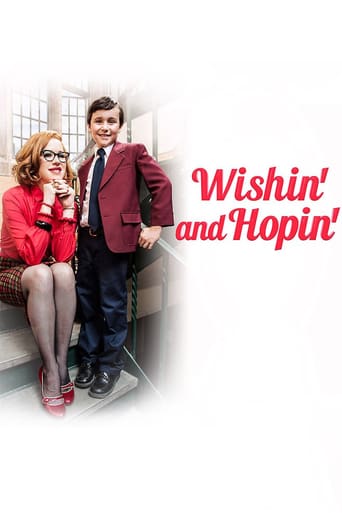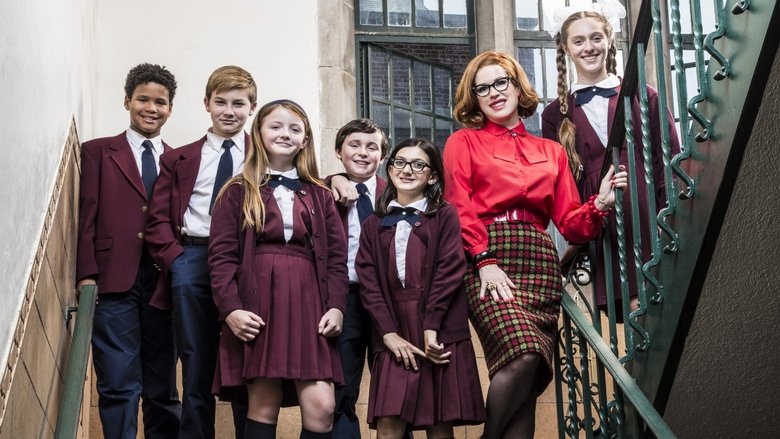 Wishin' and Hopin' (2014)
Felix Funicello is a Catholic school fifth-grader in 1964, whose claim to fame is his cousin Annette Funicello, the famous Mouseketeer and teen movie queen. But grammar and arithmetic move to the back burner this holiday season with the sudden arrivals of substitute teacher Madame Frechette and feisty Russian student Zhenya Kabakova. While Felix learns the meaning of French kissing, cultural misunderstanding, and tableaux vivants, Wishin' and Hopin' barrels toward one outrageous Christmas!
...
Watch Trailer
Cast
Similar titles
Reviews
Absolutely Fantastic
More
At first rather annoying in its heavy emphasis on reenactments, this movie ultimately proves fascinating, simply because the complicated, highly dramatic tale it tells still almost defies belief.
More
Very good movie overall, highly recommended. Most of the negative reviews don't have any merit and are all pollitically based. Give this movie a chance at least, and it might give you a different perspective.
More
By the time the dramatic fireworks start popping off, each one feels earned.
More
This movie was fantastic. Not only did we find ourselves laughing throughout the movie, but it really spun a story that we got invested in. The cast was a great mix, really drawing us in, as if we were there experiencing it along with them. I'm so glad that we watched this movie! This is a movie that the whole family can enjoy for sure. My husband is more of an action movie type of guy and he was laughing through the entire movie. I would recommend this movie to anyone! They also did a fantastic job portraying the period of time this movie was supposed to take place. So authentic!!! They focused on every last little detail!!! I just can't say it enough, they did everything right to pull us right in to the story and feel as if we were truly there!!!!
More
Wally Lamb's hit novel #WishinandHopin is one of those films that only comes along once in a lifetime. The 1960's tale is something everyone of all ages can identify with. It was incredible to see the young talent of Wyatt Ralff (aka Felix Funicello) playing the lead is this epic tale of a youngster coming of age during the Christmas Holiday. The entire crowd was laughing out loud which is something you rarely see in films these days. There are so many funny scenes, it's one belly laugh after another. I would say most people will want to watch this movie over and over again. It stars Wyatt Ralff, Molly Ringwald, Danny Nucci, Meatloaf and has Chevy Chase narrating as Felix's adult conscious which makes for an hysterical combination. This is a must see Film!!!
More
Full disclosure, have read the book by Wally Lamb - truly a great American writer - upon which the movie is based. The book is a highly entertaining, compulsively readable, heartwarming novel -- and I'm happy to report that the film actually does the book justice!Was lucky enough to attend a theatrical screening in NYC, and can definitely see this becoming one of those Christmas movies that everyone waits for, year after year, to be broadcast on TV, such as Charles Dickens' A Christmas Carol starring George C. Scott and A Christmas Story...The movie evokes the era quite wonderfully, the child actors are a talented group (and actually likable) -- standouts are the kid who plays Felix, the girl who plays his love interest/arch enemy (ah puberty), the kid who delivers his "NAACP" punchline perfectly throughout, especially at the very end of the movie, and the Russian student who resembles a 13 year-old Uma Thurman. Familiar faces include Molly Ringwald and the lady from Two and Half Men, and the the criminally underemployed Annabella Sciorra (great in her short stint - one season? - on Law & Order: Criminal Intent), who is lovely as Felix's mother.An added bonus is that the movie has quite a few 'inside jokes' for anyone who has ever attended a parochial school, or who has any experience whatsoever with a "Live Nativity" or "Christmas Pageant."If you are looking to kick off the holiday season, and pretty much smile from ear-to-ear for two hours straight, be sure to check out this movie. The best new Christmas-flavored movie to come along in a very long time...
More
We went to the premier with out 8 and 10 year old daughters with cautious optimism as there has not been a worthy Christmas movie since Elf. To our amazement we were entertained for the full 90 minutes. The lead actor Wyatt Ralff made his on screen debut with the flare of a seasoned professional (and to think he is only 10). The casting was perfect and the set was realistic 1960's. Growing up catholic, It brought back many childhood memories. The audience was engaged and laughing throughout the premier. Narration by Chevy Chase was perfection. It is destine to become a Christmas classic. A must see for all ages.
More