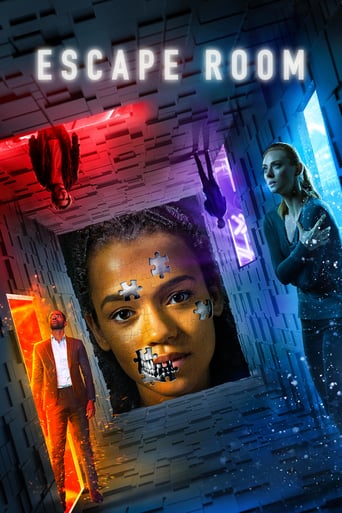 Watch Now
Subscription

Watch on Fubo TV

Watch on Starz on Hulu

Watch on Starz
Rent / Buy
Buy from $12.99
Escape Room (2019)

Watch Now
Subscription

Watch on Fubo TV

Watch on Starz on Hulu

Watch on Starz
Rent / Buy
Buy from $12.99
Six strangers find themselves in circumstances beyond their control, and must use their wits to survive.
...
Watch Trailer
Cast
Similar titles
Reviews
Yes, I know what escape rooms are, but anyone that's ever played an old-school survival horror video game such as Resident Evil will feel right at home during, possibly, the entire movie.
More
You won't be disappointed!
More
That was an excellent one.
More
If the ambition is to provide two hours of instantly forgettable, popcorn-munching escapism, it succeeds.
More
The storyline feels a little thin and moth-eaten in parts but this sequel is plenty of fun.
More