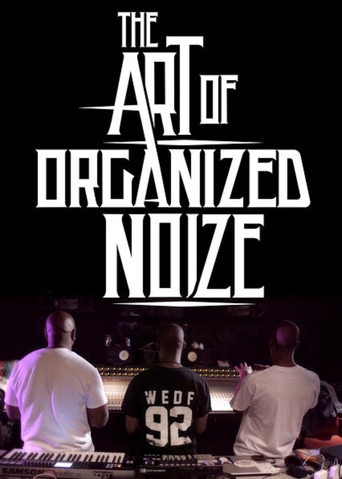 AD:This title is currently not available on Prime Video
The Art of Organized Noize (2016)
AD:This title is currently not available on Prime Video
Organized Noize shaped the landscape of Hip Hop music with a distinct sound created in the confines of a dungeon. They're responsible for the careers of Outkast, CeeLo, Goodie Mob, and the Dungeon Family. This is the story of the Art of Organized.
...
Watch Trailer
Show More
Cast
Reviews
Saw how Atlanta and Minneapolis are linked through Pebbles, Prince, and the basement home studio. Thanks Queen and Quincy.
More
The Art of Organized Noize is a complete documentary on the producer trio Ray Murray, Rico Wade, and Sleepy Brown known as Organized Noize. Produced by them as well as directed by Quincy Jones III (QD3) this is a masterpiece of a documentary. Never have I seen such a film put together about hip hop producers and musicians that views well and is as heartfelt and full of depth and inspiration ever.The film takes you on a journey through the life cycle and history of Organized Noize.I love the fact that they made the music for the movie because any other temp music would have made it unauthentic. Organized Noize provided a sound track to an entire body of people in a region of an entire country thats something movie composers don't do and most commercial music producers quite frankly can't do.Organized Noize is an inspiration to me because it's the only producer group that I ever loved not just this one person here or there. The first song I ever heard from the off springs of their teaching was "Elevators" by Outkast and then "They don't dance no mo" by Goodie Mob. I was 10 or 11 at the time and I had to have doubles and triples of what they were producing let alone the artists that they were cultivating. I've lost so many copies of their works from cracking to letting people borrow them to just what ever.Watch this movie if you love hip-hop music, if you plan on migrating to Atlanta and need to know the culture, or if you love them period 10/10.
More
I got a chance to see one of the first showings of this during SXSW. This documentary is inspirational, and even surprisingly funny at times. I have seen some of this footage before on Youtube and other documentaries, but the majority of it was new to me. There are lots of great interviews throughout. I'd recommend this for any fan of Organized Noize and the amazing list of musicians that they have worked with (Outkast, Goodie Mob, Joi, TLC, En Vogue, Lil' Will, Cool Breeze, Witchdoctor, Kilo Ali, Parental Advisory, Curtis Mayfield, Ludicrous, etc). It was very cool to get an inside look at where everything started, and get some insight into their production technique. I'll definitely be watching this again soon on Netflix. 10/10
More
QD3 Does a good job of putting together one of the most slept on movements in the hip hop community throughout the 90's and beyond. Interviews, segments and pictures by the Organized Noize. The production crew that made En Vogue, Parental Advisory, TLC and other iconic groups that we still play till this day. Laface records was underrated. The quality of talent that these guys sculpture and coached into successful heights with music. I'm only sad i wasn't one of these groups.Sorry, can't give out any spoilers. Trust me, you will watch this documentary over and over again. QD3 does a great job of filming and get the answers all fans and musicians want to be asked.A gem. This will be aired on Netflix, so just be sure to get your popcorn. I'll see you on the others side.
More