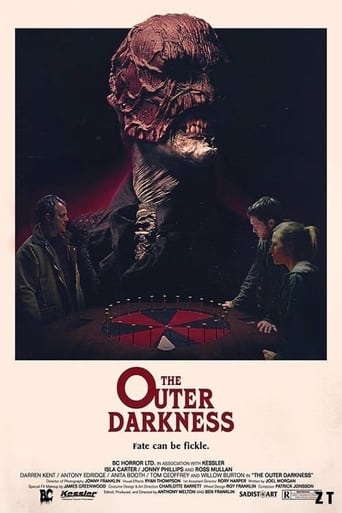 The Outer Darkness (2015)
February. 07,2015
|
6.4
|
Horror
On Friday evenings in the hall of St Barabbas' Church meets a group led by Father Jonathan Crowe. Together they share their stories – tales of strange occurrences, horrific events and bizarre encounters that have scarred their lives. Tonight, a young woman called Jenny will share her story of her experience with a game of chance that sealed the fate of her family…
...
Watch Trailer
Cast
Reviews
everything you have heard about this movie is true.
More
Fun premise, good actors, bad writing. This film seemed to have potential at the beginning but it quickly devolves into a trite action film. Ultimately it's very boring.
More
It's the kind of movie you'll want to see a second time with someone who hasn't seen it yet, to remember what it was like to watch it for the first time.
More