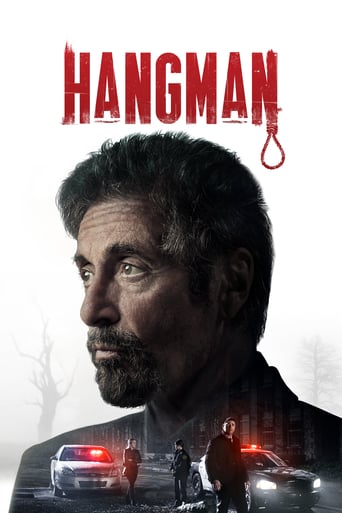 AD:This title is currently not available on Prime Video
Hangman (2017)
AD:This title is currently not available on Prime Video
A homicide detective teams up with a criminal profiler to catch a serial killer whose crimes are inspired by the children's game, Hangman.
...
Watch Trailer
Show More
Cast
Similar titles
Reviews
You Gottt'a Be Kidding Me, Hollywood is Doomed..!Stop Thinking About TRUMP..!
More
Yes I did. And a number of scenes I did like. But scenes do not make a movie. Not a whole one anyway. Al Pacino has seen better days, but that may have been what he was going for. A jaded, tired old detective pulled off of doing nothing by his old partner... knowing Pacino's method style that maybe the case. Therefore I cannot judge the man by the role. Karl Urban had nothing to go non but the standard cop routine so again this film is not an indication he ought to stcik to Star Trek films! Britney Snow was good. She had perhaps the best role in the film as far as scenes and dialog. The killer?? Nothing new here. High IQ psycho with a grudge against not just life but a particular person - all been done before. While I wanted to like it, in the end (which really was terrible), I couldn't. Four stars for the Pacino\Urban\Snow dynamic.
More
This film was missing a budget and a script.Several actors seem to give some effort: Brit Snow (reporter) Sarah Shahi (police capt.), Sloan Warren (coroner tech) and the lead Urban too. But somewhere mid film the Pacino impact is lost, the script and story-board lost, and a maybe good film slips away.
More
Muito bom, excelente trama . Vale a pena assistir.
More