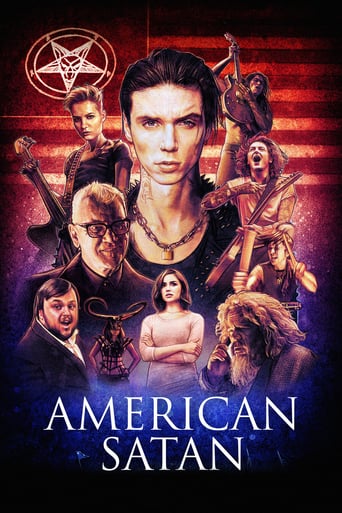 AD:This title is currently not available on Prime Video
American Satan (2017)
AD:This title is currently not available on Prime Video
A young rock band, half from England and half from the US, drop out of college and move to the Sunset Strip to chase their dreams.
...
Watch Trailer
Show More
Cast
Similar titles
Reviews
I thought this was a horror movie, but it definitely was not. It leaned more on the thriller film side. The soundtrack was actually decent, the acting and actors were great, the story was weak, rough, and tried to go too many places. Take out all the brutal shots and this could have been a lifetime movie.Also, I had no idea who Andy Biersack was, but he was the only reason I kept watching.
More
I hoped this would be the type of movie metal fans were waiting for. The ultimate rock fan's dream or dilemma with a blazing soundtrack to go along with it. While the music was what I expected, it still couldn't save the embarrassingly bad screenplay. It was painful to watch at times. I almost feel bad for the actors having to say some of these cheesy lines and pretend to mean it. Hopefully it doesn't discourage more people from making movies like this. But it definitely doesn't encourage it either.
More
I think this movie is very entertaining.maybe it was better to make the story about a real metal band, but on the other hand,i do not think that the devil cares too much about who he can influence.as long as he can make his deals.the modern look on the faustian deal is good and if one does not take it too serious it is a nice movie to watch.there are so many stories about who was influenced by the devil.from bowie to the mamas and papas and the cast of Jesus Christ superstar. and many many more.just sit back, take some drinks and enjoy and it will all be fine.
More
I've been a metal-head since I first heard Black Sabbath; so I can't say my review won't be biased, but this movie was phenomenal. I've never been a fan of Black Veil Brides or Andy Beirsack before watching this film, however I can safely say that his performance along with the other casts simply blew me away. Whilst there were moments of typical cliches, American Satan captures the essence of heavy metal LA, and more specifically The Rainbow; which has served as a home base for head bangers around the globe. Thank you American Satan for re-embracing the world of rock and roll in more than an audio medium for the masses to indulge.
More