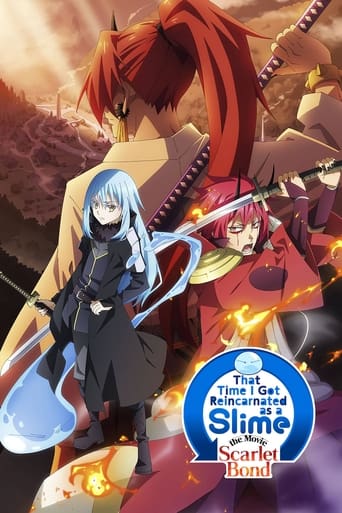 That Time I Got Reincarnated as a Slime the Movie: Scarlet Bond (2022)
A long-running conspiracy is swirling over a mysterious power wielded by the Queen in Raja, a small country west of Tempest. When a slime who evolved into a Demon Lord named Rimuru Tempest crosses paths with Hiiro, a survivor of the Ogre race, an incredible adventure packed with new characters begins. The power of bonds will be put to the test!
...
Watch Trailer
Cast
Similar titles
Reviews
Good story, Not enough for a whole film
More
It's not bad or unwatchable but despite the amplitude of the spectacle, the end result is underwhelming.
More
The acting in this movie is really good.
More
There are moments in this movie where the great movie it could've been peek out... They're fleeting, here, but they're worth savoring, and they happen often enough to make it worth your while.
More