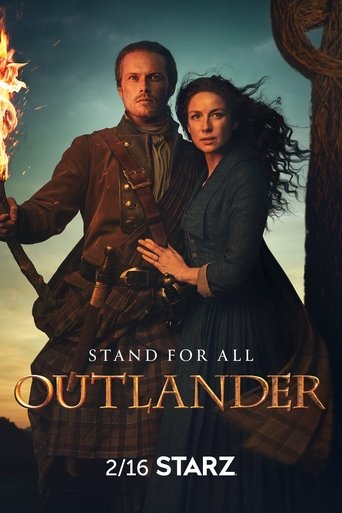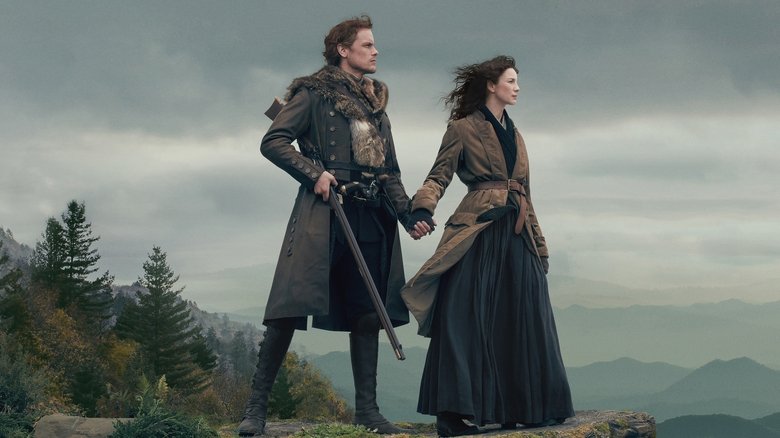 Watch Now
Subscription

Watch on Netflix

Watch on Starz on Hulu

Watch on Starz
Rent / Buy
Buy from $1.99
Outlander Season 5
February. 16,2020
|
8.4
|
TV-MA
|
Drama

Watch Now
Subscription

Watch on Netflix

Watch on Starz on Hulu

Watch on Starz
Rent / Buy
Buy from $1.99
Book Five finds the Frasers fighting for their family and the home they have forged on Fraser's Ridge. Jamie must find a way to defend all that he has created in America, while hiding his personal relationship with Murtagh Fitzgibbons, the man whom Governor William Tryon has ordered him to hunt down and kill. With her family together at last, Claire Fraser must use her modern medical knowledge and foresight to prevent them from being ripped apart once again.
...
Watch Trailer
Outlander Season 5 Full Episode Guide
Episode 12 - Never My Love
First Aired: May. 10,2020
Claire struggles to survive brutal treatment from her captors, as Jamie gathers a group of loyal men to help him rescue his wife. Meanwhile, Roger and Brianna's journey takes a surprising turn.
Episode 11 - Journeycake
First Aired: May. 03,2020
A revelation about Jemmy forces Roger and Brianna to choose between staying in the eighteenth century and returning to the safety of the future. Jamie finds that unrest in the backcountry has given rise to a new power.
Episode 10 - Mercy Shall Follow Me
First Aired: April. 26,2020
Jamie and Roger implement their plan to eliminate the threat looming over them, but it goes awry. Brianna is forced to confront her greatest fear and fight for her and her son's lives.
Episode 9 - Monsters and Heroes
First Aired: April. 19,2020
When Jamie is bitten by a venomous snake, Claire fears she may not have the resources to save him. Jamie asks Roger to complete an important task in the event of his death.
Episode 8 - Famous Last Words
First Aired: April. 12,2020
The Frasers must come to terms with all that has changed in the aftermath of the Battle of Alamance Creek. Brianna tries to help Roger overcome the trauma he has endured. An unexpected visitor arrives at the Ridge.
Episode 7 - The Ballad of Roger Mac
First Aired: March. 29,2020
The Regulator Rebellion reaches a boiling point, forcing Jamie to face his fear and confront the consequence of his divided loyalties.
Episode 6 - Better to Marry Than Burn
First Aired: March. 22,2020
At Jocasta's wedding, Jamie learns Tryon's true motivation for ending the Regulator threat.
Episode 5 - Perpetual Adoration
First Aired: March. 15,2020
Jamie and his militia arrive at Hillsborough to learn that Governor Tryon has proposed a rather unorthodox solution to deal with the threat posed by the Regulators and to resolve the growing political crisis.
Episode 4 - The Company We Keep
First Aired: March. 08,2020
Roger leads Jamie's militia to the trading post of Brownsville and finds himself embroiled in a bitter feud. Jamie and Claire arrive to find that Roger's unusual strategy may have cost them the loyalty of the militia.
Episode 3 - Free Will
First Aired: March. 01,2020
The growing Regulator threat forces Jamie, Claire and Roger to embark on a mission to raise a militia.
Episode 2 - Between Two Fires
First Aired: February. 23,2020
As Jamie continues to hunt Murtagh with the aid of the zealous Lieutenant Hamilton Knox, he's forced to consider whether or not he's on the right side of history.
Episode 1 - The Fiery Cross
First Aired: February. 16,2020
Following celebrations in honor of Brianna and Roger's wedding, Governor Tryon reminds Jamie of his obligation to hunt down and kill Murtagh Fitzgibbons.
Seasons
Similar titles