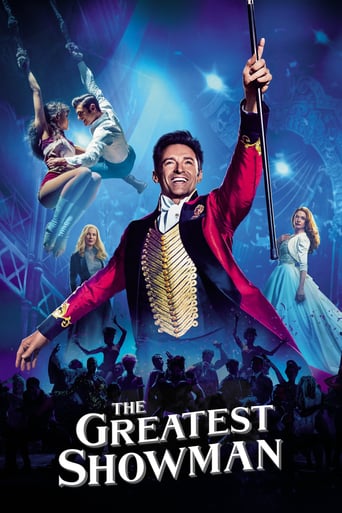 AD:This title is currently not available on Prime Video
The Greatest Showman (2017)
December. 20,2017
|
7.6
|
PG
|
Drama
AD:This title is currently not available on Prime Video
The story of American showman P.T. Barnum, founder of the circus that became the famous traveling Ringling Bros. and Barnum & Bailey Circus.
...
Watch Trailer
Show More
Cast
Similar titles
Reviews
One of my all time favorites.
More
A story that's too fascinating to pass by...
More
what a terribly boring film. I'm sorry but this is absolutely not deserving of best picture and will be forgotten quickly. Entertaining and engaging cinema? No. Nothing performances with flat faces and mistaking silence for subtlety.
More
Blistering performances.
More
I'm not a big fan of musicals so when my kids said they wanted to watch this I was kind of dreading the next couple of hours. However right from the start I was drawn in and transfixed - a big, beautiful, uplifting work that took me away on a wonderful journey. The whole family just loved it.
More
I love this movie so much. I really do think its my number one. Ive never felt this good when ending the movie. Its one of those movies you wish would mever end and your dreading the ending coming.
More
I went in thinking that this was just another biography that I might doze off in before it ended I was totally wrong The cast were very convincing The music was fast paced to match the rags to riches tail of a man who always wanted to win The music was soberly written I didnt need to be told that the director had a vision that he knew would bring out the best in each of the cast Altogether a show I could wat h many times and find something knew each time I saw it
More
If there were a higher than 10 rating I would gladly give it to this film. An anthem for trying to make your dreams come true and also with a theme that no matter what we look like on the outside we are all deserve love. Hugh Jackman, Zac Efron, Michelle Williams and Zendaya transport us to a world of music, theatricality and dreams that leap off the screen. If you need to remember why movies are a break from the dreary day to day join this cast to see The Greatest Showman! You will not be sorry.
More