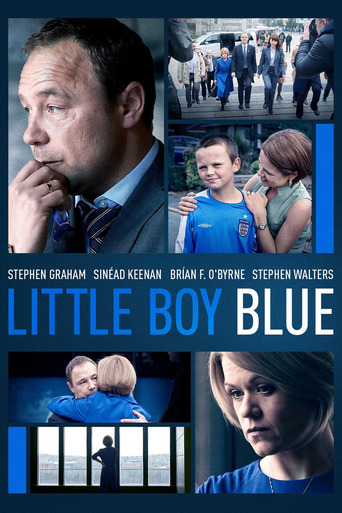 Little Boy Blue (2017)
Based on a true story that shocked a nation, this powerful four-part factual drama, from BAFTA winning writer and executive producer Jeff Pope (Appropriate Adult, The Widower), centres on the devastating impact on a city of an innocent child's murder amid a wave of gang violence. In August 2007, while walking home from football practice in his England kit, 11-year-old Rhys Jones was unwittingly caught in the crossfire of a gang war. Shot in the neck outside the Fir Tree pub in Liverpool's Croxteth, he died in his mother's arms. Made with the support of Rhys's parents, Melanie and Steve, Little Boy Blue explores their ordeal and looks at the agonising dilemmas of witnesses faced with becoming pariahs for speaking up. It tells the story of the long and extensive investigation, led by Merseyside Police SIO David Kelly, that eventually brought Rhys's murderer and his associates to justice.
...
Watch Trailer
Cast
Reviews
Please don't spend money on this.
More
A lot of perfectly good film show their cards early, establish a unique premise and let the audience explore a topic at a leisurely pace, without much in terms of surprise. this film is not one of those films.
More
What begins as a feel-good-human-interest story turns into a mystery, then a tragedy, and ultimately an outrage.
More
A clunky actioner with a handful of cool moments.
More
An utterly captivating drama, perfectly executed over four episodes with not a single flaw to be found.Top-notch writing, precision directing, exemplary performances from the entire cast, seamless editing, with music and cinematography that intelligently don't make themselves noticed (so nothing showy or artsy, just excellent scene-setting) perfectly paced with an overall sense of all-round good storytelling.Every moment of this true-life drama was suffused with authenticity, integrity, and verisimilitude, with no audience manipulation to be detected (which doesn't mean it wasn't there; just that it was artfully and subtly done). This is a rare gem that is worth watching more than once, although the subject matter is grim. Top marks.
More
This mini-series is an emotional rollercoaster. The actors in the British crime dramas are from top to bottom, off the charts good, and this one is just is no different. And this is based on a true story.
More
The shaky cam was so bad my head was spinning and I had to give up less than 7 minutes in. I'm sure I would have been gripped by the story and drama unfolding, and that it was an accurate telling of a senseless crime, but I didn't get the chance to be able to judge that. Why directors insist on using hand held cameras that induce nausea when watching is beyond me.
More
This is absolutely heart braking to watch, I defy anybody to watch this without shedding a tear. Based on the tragic real life events of young Rhys Jones, and his horrific and tragic murder. I understand that the parents of young Rhys were involved in the production of this drama, and I think that definitely helps with the grit and realism of the show, it doesn't feel like it's been sensationalised at any point, it feels very realistic.Fantastic performances all round, I have forever been a fan of Stephen Graham, but he has gone up a notch with this, he's proved what an incredibly powerful actor he is.It's tough viewing, and I've watched every episode in tears, but it's a story that is worth seeing, what that poor family went through. The scenes in Goodison Park are among the most powerful I've seen in years.9/10
More