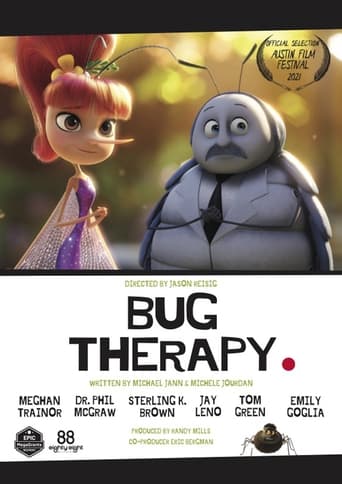 Bug Therapy (2021)
Citronella, a mosquito who faints at the sight of blood, nervously waits outside her first group therapy session, while the Pill Bug therapist, Dr. Pill tries to calm a neurotic group of bugs, each suffering from a mental-health issue: An OCD germaphobic Fly freaks when he runs out of hand sanitizer. A Dragonfly couple struggle with co-dependency; she's literally on top of him. A Grasshopper, addicted to coffee, is so jumpy, he launches himself in mid-sentence. A Praying Mantis who doesn't pray because she thinks she is God. A terrified Spider is deathly afraid of -- spiders. And, a perfectly-camouflaged Stick Bug complains that no one ever "sees" him. Throughout all this, Citronella battles her urge to flee - while Dr. Pill implores her to share her "embarrassing" problem.
...
Watch Trailer
Cast
Similar titles
Reviews
Too much of everything
More
From my favorite movies..
More
what a terribly boring film. I'm sorry but this is absolutely not deserving of best picture and will be forgotten quickly. Entertaining and engaging cinema? No. Nothing performances with flat faces and mistaking silence for subtlety.
More
Like the great film, it's made with a great deal of visible affection both in front of and behind the camera.
More