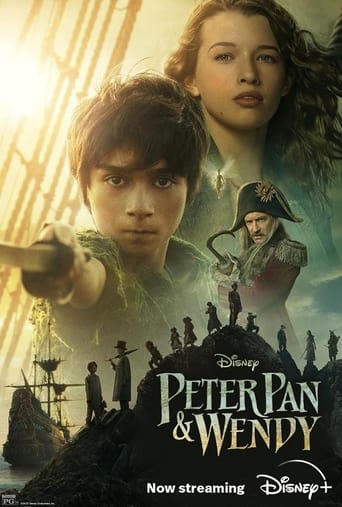 Peter Pan & Wendy (2023)
Wendy Darling, a young girl afraid to leave her childhood home behind, meets Peter Pan, a boy who refuses to grow up. Alongside her brothers and a tiny fairy, Tinker Bell, she travels with Peter to the magical world of Neverland. There, she encounters an evil pirate captain, Captain Hook, and embarks on a thrilling adventure that will change her life forever.
...
Watch Trailer
Cast
Similar titles
Reviews
For all the hype it got I was expecting a lot more!
More
The performances transcend the film's tropes, grounding it in characters that feel more complete than this subgenre often produces.
More
The movie's neither hopeful in contrived ways, nor hopeless in different contrived ways. Somehow it manages to be wonderful
More
The tone of this movie is interesting -- the stakes are both dramatic and high, but it's balanced with a lot of fun, tongue and cheek dialogue.
More