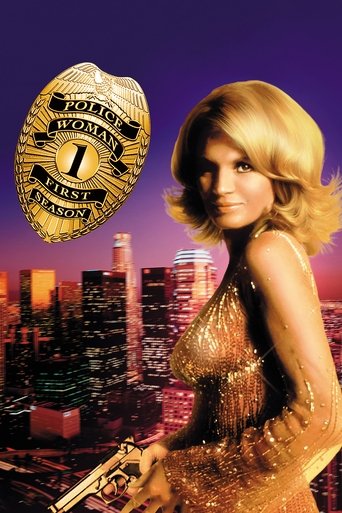 Police Woman Season 1
Sergeant "Pepper"" Anderson, an undercover cop for the Criminal Conspiracy Unit of the Los Angeles Police Department, poses undercover from mob girl to prostitute.
...
Watch Trailer
Police Woman Season 1 Full Episode Guide
Episode 22 - The Loner
First Aired: March. 14,1975
Pepper is strangely fascinated by a ruggedly individualistic ex-cop who works as a bodyguard and is antagonizing both the police and the gangster who's after his client.
Episode 21 - Bloody Nose
First Aired: March. 07,1975
While working undercover as a waitress in a seedy roadside diner connected to a series of truckload heists, Pepper finds herself entangled in the ugly spousal abuse dispute between a young married couple in her apartment complex.
Episode 20 - Ice
First Aired: February. 28,1975
Posing as a couple of jewel fences, Pepper and Crowley travel to Masiaca, Mexico as part of a complex plan to nab a gang of diamond thieves.
Episode 19 - The Company
First Aired: February. 21,1975
Three gangland killings signal that someone is taking over established vice activities. A gambling operator is feeling the heat, and Pepper is there to help.
Episode 18 - Nothing Left to Lose
First Aired: February. 14,1975
Larue Collins a police informer is pursued relentlessly by the mob. The song 'Me and Bobby McGee' is the theme used for this episode, which most describe as the best Police Woman episode.
Episode 17 - No Place to Hide
First Aired: January. 31,1975
A clue is found linking a series of seemingly random murders: Each victim had testified against the mob and was now enjoying a new life in the Witness Protection Program. Pepper goes undercover as a secretary to uncover the leaker.
Episode 16 - Blast
First Aired: January. 24,1975
The deaths of a prominent politician and a nightclub dancer in a car explosion send Pepper to work as a go-go dancer for the club's owner, a one-time poor boy with a powerful yen for the finer things in life.
Episode 15 - Sidewinder
First Aired: January. 17,1975
Four Korean War vets armed with M-16s and a bazooka prepare to pull off Operation: Sidewinder, a heist of an armored car carrying a multi-million dollar payload. One of the men's penchant for prostitutes puts Pepper in the action undercover.
Episode 14 - Target Black
First Aired: January. 03,1975
Pepper serves as bodyguard for a visiting campus speaker who, being black and Marxist, is a magnet for threats from hate groups.
Episode 13 - Shoefly
First Aired: December. 20,1974
Internal Affairs gives Pepper and Crowley 72 hours to find the cop who switched barrels on a murder weapon before the accused killer got to court.
Episode 12 - The Cradle Robbers
First Aired: December. 13,1974
A search for a missing granddaughter of Sergeant Crowley's old friend leads Pepper to an adoption racket in which children are bought and sold.
Episode 11 - Smack
First Aired: December. 06,1974
Pepper goes undercover as a high school teacher to hunt down a group of drug pushers.
Episode 10 - Requiem for Bored Wives
First Aired: November. 29,1974
Bob Crane plays a freewheeling disc jockey who finds his wife murdered in her bed.
Episode 9 - The Stalking of Joey Marr
First Aired: November. 22,1974
Pepper must transfer the son of a murdered gang chief from Mexico to testify against a killer.
Episode 8 - Flowers of Evil
First Aired: November. 08,1974
"Flowers of Evil" is a 1974 episode of the American police procedural television series Police Woman. The episode features Sgt. Suzanne "Pepper" Anderson going undercover at a nursing home to investigate a murder. She uncovers a trio of lesbians who are robbing and murdering their elderly residents. The episode, the 8th of the first season, originally aired on November 8, 1974. Gay and lesbian organizations protested "Flowers of Evil", which producers said was based on a real case, for its portrayal of the killers as lesbians and for the stereotypical presentation of lesbianism. The episode aired a month after a similarly controversial episode of Marcus Welby, M.D. on ABC garnered national protests. Mindful of that recent controversy, NBC delayed the episode and ordered some changes but they were not enough to allay gay and lesbian concern over network television's negative portrayal of homosexuality. After negotiations, NBC agreed not to rerun the episode.
Episode 7 - Fish
First Aired: November. 01,1974
Pepper goes undercover in a woman's prison to gain the confidence of a fellow prisoner who has information that could put away a mobster.
Episode 6 - It's Only a Game
First Aired: October. 25,1974
Squad veterans question whether their newest member really wants the job or is being pushed into it by his father, a retired detective.
Episode 5 - Anatomy of Two Rapes
First Aired: October. 11,1974
In this episode two rapes are investigated. The first victim is a woman who is raped the day before her daughter is supposed to get married. The second victim is an alcoholic who was raped and murdered and her body dumped in a vacant lot. It is later revealed that the first victim made up the story in order to stop the wedding. The second rape is solved when a teenager who was teased by the victim admits to killing her.
Episode 4 - Seven Eleven
First Aired: October. 04,1974
Pepper goes undercover and impersonates an airline stewardess who is a link in a complex heroin smuggling chain.
Episode 3 - Warning: All Wives...
First Aired: September. 27,1974
Pepper and Bill go undercover to catch a rapist/killer who is targeting the wives of patients at a hospital. The first suspect is the amorous parking attendant. However, Pepper is later abducted by the real killer, the nephew of a pair of nurses at the hospital, who kills as a way of getting back at his mother who abandoned him as a child.
Episode 2 - The Beautiful Die Young
First Aired: September. 20,1974
Pepper and Crowley investigate a modeling school that takes advantage of young runaways girls, turning them into white slaves in Japan, or making them participate in pornographic movies.
Episode 0 - The End Game
First Aired: September. 13,1974
Pepper and Crowley pose as bank employees to nail a particularly vicious gang of bank robbers.
Seasons
Similar titles