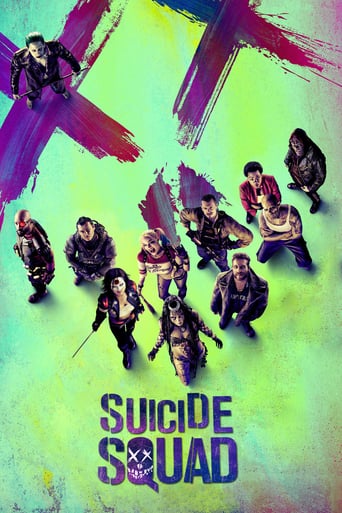 AD:This title is currently not available on Prime Video
Suicide Squad (2016)
AD:This title is currently not available on Prime Video
From DC Comics comes the Suicide Squad, an antihero team of incarcerated supervillains who act as deniable assets for the United States government, undertaking high-risk black ops missions in exchange for commuted prison sentences.
...
Watch Trailer
Show More
Cast
Similar titles
Reviews
Excellent, Without a doubt!!
More
Although it has its amusing moments, in eneral the plot does not convince.
More
It was OK. I don't see why everyone loves it so much. It wasn't very smart or deep or well-directed.
More
A terrific literary drama and character piece that shows how the process of creating art can be seen differently by those doing it and those looking at it from the outside.
More
Considering all the hype this has gotten, I was expecting a cracker of a movie, but this fizzled out. The movie just seemed pointless. The story was not well-structured enough and it seemed like the main conflict in the story was brought on by the good guys themselves. I liked the special effects and the background music, but there isn't a lot to write home about. With characters like El Diablo, Harley Quinn and Deadshot, a lot could have been done but this movie just did not work out for me.As an independent movie, without the DC supervillains, I would have rated this higher, because it was somewhat entertaining. But the supervillains just seemed like a waste in this film. Some really bad casting choices- Cara Delevingne was atrocious and I was cringing every time she came on screen. However, Margot Robbie was good as Harley Quinn.This was a waste of time. Left a lot to be desired.
More
First watching this sometime last year I thought it was somewhat okay but after re-watching it a few days later I just couldn't stand it at all. It tries to manipulate you into thinking it's good with its constant humor and music but it's so transparent when you really pay attention.The acting, particularly from Will Smith was decent but that couldn't save the horrendous humor that all the characters spewed out every 3 minutes. The editing was atrocious and mind numbing (mainly in the first act), the music choices were so random and used way too often and the characters were forgettable and sometimes embarrassing to watch frankly.It's definitely not the worst superhero movie as I've seen much worse (Batman and Robin/Superman 4) but it is pretty bad.
More
This movie was really bad. The worst joker (Leto), the worst Batman (Affleck), one of the worst superhero movie scripts in a long time, awful direction, most of the jokes fall flat, cheesy action and a lame story... a few good things about the movie but not nearly enough to save it from itself. Hopefully there will never be a follow-up, just a complete reboot.
More
They tried to connect different characters in the same movie, but that didn't work out. I was waiting till the end in hope that something will happened...
More