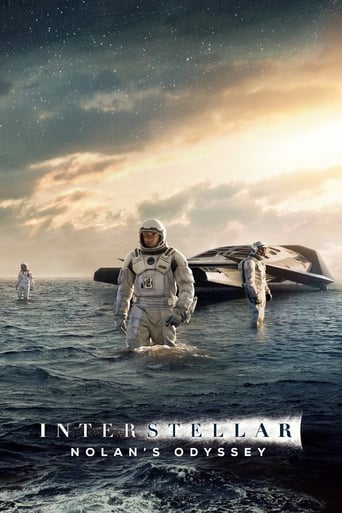 Interstellar: Nolan's Odyssey (2014)
A look behind the lens of Christopher Nolan's space epic.
...
Watch Trailer
Cast
Similar titles
Reviews
The Age of Commercialism
More
It's complicated... I really like the directing, acting and writing but, there are issues with the way it's shot that I just can't deny. As much as I love the storytelling and the fantastic performance but, there are also certain scenes that didn't need to exist.
More
While it is a pity that the story wasn't told with more visual finesse, this is trivial compared to our real-world problems. It takes a good movie to put that into perspective.
More
Story: It's very simple but honestly that is fine.
More
"Interstellar: Nolan's Odyssey" is a 23-minute television documentary from the UK made back in 2014 and this was shown for the first time the very same time that Christopher Nolan's Interstellar hit theaters. But we talked about that one already and now we focus on this little documentary. The bad things here are the host who is pretty cringeworthy at times and the constant ways in which production company Sky Movies advertised was really disgraceful. Actually the scenes from and references to these films did not fit in here at all, so the advertising was the only reason they were included and this is close to being a negative deal breaker. In terms of contents, most of the time they did okay and also offered contents that went beyond praising Nolan to the skies, but also delivered interesting information. Thumbs-up for that. Plus the actors sitting their had some decent insight to share. If only the host hadn't sat right next to them. Nolan himself as an interview partner was surprisingly irrelevant, but I guess that's also because the actors are just bigger professionals in terms of how to entertain an audience. I personally really loved Interstellar and in my opinion it is one of Nolan's top3. But I perfectly could have done without this little promo documentary as the mediocre and forgettable is most dominant in here next to some glaring weaknesses. Only worth seeing for the very biggest fans of Nolan or the actors in here. I give it a thumbs-down.
More