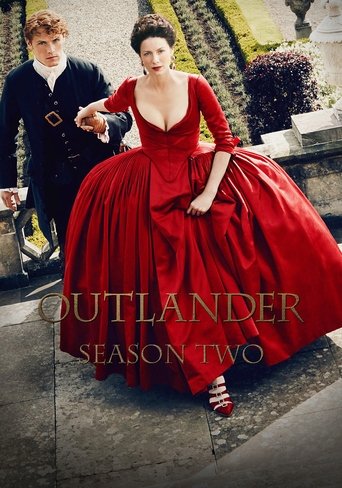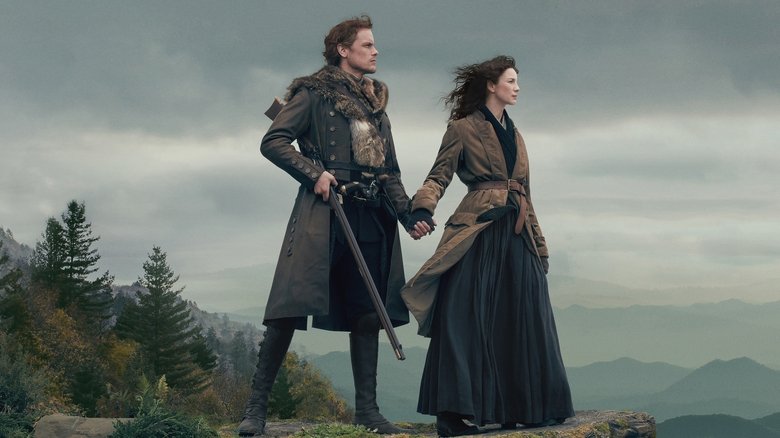 Watch Now
Subscription

Watch on Netflix

Watch on Starz on Hulu

Watch on Starz
Rent / Buy
Buy from $1.99
Outlander Season 2
April. 09,2016
|
8.4
|
TV-MA
|
Drama

Watch Now
Subscription

Watch on Netflix

Watch on Starz on Hulu

Watch on Starz
Rent / Buy
Buy from $1.99
Book Two begins as Claire and Jamie arrive in France, hell-bent on infiltrating the Jacobite rebellion led by Prince Charles Stuart, and stopping the battle of Culloden. With the help of his cousin Jared, a local wine merchant, Jamie and Claire are thrown into the lavish world of French society, where intrigue and parties are abundant, but political gain proves far less fruitful. Altering the course of history presents challenges that begin to weigh on the very fabric of their relationship. However, armed with the knowledge of what lies ahead, Claire and Jamie must race to prevent a doomed Highland uprising, and the extinction of Scottish life as they know it.
...
Watch Trailer
Outlander Season 2 Full Episode Guide
Episode 13 - Dragonfly in Amber
First Aired: July. 09,2016
In the present, Claire reveals the truth to her daughter, Brianna. In the 18th century, Jamie does everything he can to save his loved ones as the Battle of Culloden begins.
Episode 12 - The Hail Mary
First Aired: June. 25,2016
Jamie works to divert the Jacobite army away from imminent slaughter. Claire tries to provide comfort to a sick Alex Randall who shares an unusual plan to save the mother of his child.
Episode 11 - Vengeance Is Mine
First Aired: June. 18,2016
Claire and the Highlanders head north after the Jacobite leaders decide to halt their march on London. Claire has an unexpected reunion after a band of redcoats makes trouble for the Scots.
Episode 10 - Prestonpans
First Aired: June. 11,2016
Jamie relies upon Claire's knowledge of history to lead the Jacobite army into a crucial battle. Claire is reminded of the true cost of war as she attends to the dead and dying.
Episode 9 - Je Suis Prest
First Aired: June. 04,2016
Claire and Jamie reunite with the Lallybroch and MacKenzie men as they train for war. Jamie's power struggles with Dougal and Claire's personal battle with her memories of WWII weigh upon them, but new, helpful information comes to light when a young Englishman named William Grey pays a surprise visit to their camp.
Episode 8 - The Fox's Lair
First Aired: May. 28,2016
Claire and Jamie call upon Jamie's grandsire, Lord Lovat, in an attempt to elicit support for the Jacobite cause. However, a visiting Colum MacKenzie has other plans, and Lord Lovat's manipulative machinations ensure that no matter what, his own interests will be served.
Episode 7 - Faith
First Aired: May. 21,2016
Claire is brought to L'Hopital Des Anges where doctors try to save her life and that of her unborn baby. King Louis asks Claire to judge two men accused of practicing the dark arts – one an enemy, one a friend.
Episode 6 - Best Laid Schemes...
First Aired: May. 14,2016
Jamie and Claire use Claire's medical knowledge to devise a scheme to stop a wine deal which could fill the Prince's war chest. When Claire learns Jamie has gone back on his word, the couple are met with dire consequences that will forever change their lives.
Episode 5 - Untimely Resurrection
First Aired: May. 07,2016
Reunited, Jamie and Claire attempt to extinguish the fires their dinner party ignited; however, Claire is set off on an unexpected change of course. Jamie and Claire's relationship is put to the ultimate test when the past rears its ugly head.
Episode 4 - La Dame Blanche
First Aired: April. 30,2016
Claire and Jamie throw an elaborate dinner party intended to derail investors in Prince Charles' war effort. Meanwhile, Claire's revelation that Jack Randall is alive sparks Jamie in an unexpected way as he and Claire struggle to regain their physical intimacy.
Episode 3 - Useful Occupations and Deceptions
First Aired: April. 23,2016
Jamie's days and nights are dominated by political machinations, while Claire finds solace in her healing skills. As their plan to stop Culloden progresses, including engaging the aid of a young pickpocket, the past threatens to derail their forward momentum.
Episode 2 - Not in Scotland Anymore
First Aired: April. 16,2016
Life in Paris is not without its trials as Jamie struggles to triumph over the traumas of his past. A fortunate meeting with Jacobite leader Prince Charles presents opportunities, while the Duke of Sandringham's presence brings complications.
Episode 1 - Through a Glass, Darkly
First Aired: April. 09,2016
Returning to her own time, Claire must reconcile her future with the life she left behind. Shifting back to 18th century, Jamie, Claire and Murtagh arrive in France, but learn that Paris presents its own challenges.
Seasons
Similar titles